"Hennu Hadeyalu Beda" is a Kannada song that showcases the artistic brilliance of Harshika Devanath as a singer. With lyrics written by Janapada and composed by B. Ajaneeshloknath, this song weaves together a unique blend of emotions and thought-provoking messages.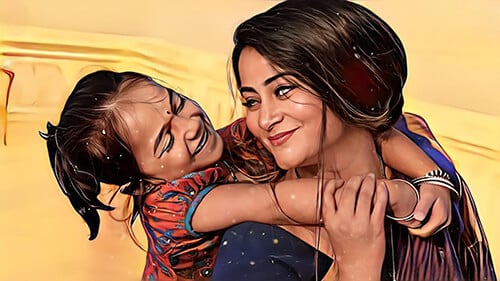 The lyrics of "Hennu Hadeyalu Beda" delve into the complexities of gender and society. It challenges societal norms and raises important questions about the roles assigned to women. Janapada's thought-provoking words paint a vivid picture of the struggles faced by females and the expectations imposed upon them. The composition by B. Ajaneeshloknath adds depth and resonance to the lyrics, enhancing the song's overall impact.
"Hennu Hadeyalu Beda" is a powerful song that challenges societal norms and encourages introspection. It is a testament to Harshika Devanath's incredible talent as a singer and the artistic vision of the lyricist Janapada and composer B. Ajaneeshloknath. The movie "Banaras" provides the perfect platform for this song to be experienced in its full context, resonating with the audience on a deeper level.
BANARAS KANNADA MOVIE · HENNU HADEYALU BEDA SONG LYRICS
Sagamapa Padamaparirimaga Sagamada Aa
Hennu Hadeyalu Byada Heravarige Kodabyada
Henhoguvaga Alabyada Henhoguvaga Alabyada
Hadedava Sittagi Sivana Baibyada
Byasagi Divasake Bevina Mara Tampu Aa Aa
Byasagi Divasake Bevina Mara Tampu
Bhimarati Emba Hole Tampu
Bhimarati Emba Hole Tampu
Hadedava Ni Tampu Nanna Manadage
Sagamapa Padamaparirimaga Sagamada Aa
Hennagi Huttokinta Mannagi Huttidare
Mannina Myalondu Maravagi
Mannina Myalondu Maravagi Huttidare Punyavantarige Neralagi
Kasige Hogoke Esandu Dinabeku
Tasottina Hadi Tavaruru Tasottina Hadi Tavaruru
Maneyage Kadu Kuntale Hadedava
Jagakkella Avale Paradaiva
Aa A Aa O O Oa Aa A Dhiranana

Banaras Film's Hennu Hadeyalu Beda Music Video | Sonal Monteiro | Zaid Khan
In the movie "Banaras," directed by Jayathirtha, the song "Hennu Hadeyalu Beda" finds its rightful place, enriching the narrative and profoundly engaging the audience. The performances by Zaid Khan and Sonal Monteiro add depth and authenticity to the story, giving life to the lyrics through their on-screen presence.
The music video directed by Jayathirtha complements the song by visually capturing the essence of the lyrics. It presents a thought-provoking visual narrative that further enhances the impact of the song's message.
Hennu Hadeyalu Beda Song Details
Song
Hennu Hadeyalu Beda
Movie
Banaras
Lead Singer
Harshika Devanath
Lyric Poet
Janapada
Music Composer
B. Ajaneeshloknath
Playactor
Zaid Khan, Sonal Monteiro