Get the Hey Manasendukila Song Lyrics that Ramya Behara, Armaan Malik performed and are featured in Ichata Vahanamulu Nilupa Radu film of Sushanth, Meenakshi Chaudhary. The lyrics writer Sreejo wrote-down the Hey Manasendukila's Telugu lyrics and S Darshan gave direction to the music video.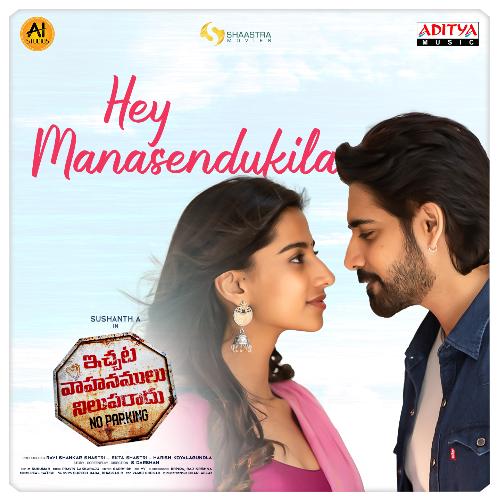 Ichata Vahanamulu Nilupa Radu Telugu MOVIE • Hey Manasendukila FULL SONG LYRICS
Hey Manasendukila Nilichina Chotika Niluvaduga,
Nee Kanulaki Bahusha Emaindho Thelusa,
Aa Pedavulu Chese Mayaki Matalu Chalavika,
Na Nadakalu Nanne Cheraka Manavuga,
Arakshanamu Undadhu Thinnaga Pranamu,
Alajadi Padi Ninu Vidadhe,
Adhi Vini Gundelanapina Dhuram,
Melamellaga Kariginadhe,
Ooh! Ooh-Ooh! Ooh!
Daggaraina Koddhi Dhorakka Jaraku,
Neeli Kalla Thoti Korakka Manaku,
Asha Theerakunte Ekantham Endhuku Nijamu Kadha,
Oopiradakunte Ee Kougilendhuku,
Entha Korikante Oo Gunde Chaladu,
Prema Ponguthoone Pedhalu Dhachaku Jathapadava,
Enthagano Nannu Nenu Apukunna,
Chentha Cheramantu Saiga Chesthave,
Ataladuthune Okkatai Kalise Manasulive,
Ooh! Ooh-Ooh! Ooh!
Haan! Chempa Gilluthunte, Nee Choopu Challaga,
Gunde Andhukundhe Kerintha Kotthaga,
Oorukomanante Agedhi Kadhuga Madhi Sarada,
Cheppaleka Neetho Manasu Dhachaga,
Rekkalochhinattu Vayasu Golaga,
Okkamatathone Theesindhi Sootiga Prathi Parada,
Endhukani Undaneevu Nannu Oorike,
Mataladi Mayaloki Thosthave,
Entha Muddhugundhi Dhaggaravuthunte Mana Jagame.
Ooh! Ooh-Ooh! Ooh!

Hey Manasendukila Music Video | Ft. Meenakshi Chaudhary | Sushanth
Let's watch the Hey Manasendukila music video from S Darshan's Ichata Vahanamulu Nilupa Radu film.
Hey Manasendukila is a brand-new Telugu number by Ramya Behara, Armaan Malik. Pravin Lakkaraju directed the music for Hey Manasendukila from Ichata Vahanamulu Nilupa Radu. The songwriter Sreejo scripted the relevant lyrics of the Telugu song. S Darshan directed the music video of 'Hey Manasendukila', released on February 16, 2021.