"Hua Main," also known as "Hua Main Ranjhna," is a romantic ballad that beautifully complements the chemistry between Rashmika Mandanna and Ranbir Kapoor in the movie 'Animal.' The song's music video and lyrics create a heartfelt atmosphere, capturing the essence of love.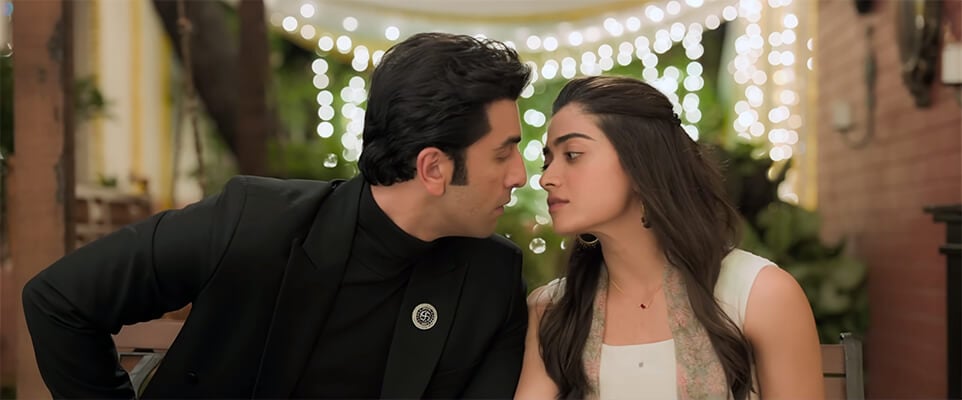 Raghav Chaitanya's soulful rendition of the song adds depth to the emotional connection depicted in the music video. The lyrics, penned by Manoj Muntashir, convey a profound sense of love, desire, and devotion. They speak of a love so intense and unique that it's impossible to compare to any other.
The Hua Main song's lyrics as well as their translation vividly depict the journey of two lovers deeply in love. The verses express the melting sensation when love touches the heart, emphasizing the remarkable and unparalleled love one feels for their sweetheart. It is a love that transcends all boundaries and makes one feel like they're experiencing love for the first time.
ANIMAL MOVIE | HUA MAIN SONG LYRICS ENGLISH MEANING
Chhua Tune Beh Gaya Main Hiriye
Oh, love, when you touched me, it melted me.
Jo Ab Tak Kisi ne Kabhi Na Kiya
The love no one else has ever had for his sweetheart.
Ishq Aisa Ishq Aisa Chahiye
That is the kind of love I want.
Aisi Diwanagi Se Main Chahun Tujhe
I love you with all my heart, 
Jaise Pehli Dafa Koi Pagal Hua
like I've gone crazy for the first time.
Hua Main! Hua Main! Hua Main!
I am gone!
Dua Se Main Utha Jo Tera Hua Main
I became yours as soon as I finished praying.
Hua Main Ranjhna, Hua Main! Hua Main!
Oh sweetheart, I have… I have become…
Dekha Nahi Tune Abhi Jadu Hua Kya
You have yet to see the spell of magic that love has bestowed.
Dono Jahan Jahan Jahan Gaye Thehar
Both worlds have come to a halt for me.
Tere Badan Ki Roshni Mere Badan Mein, Abhi Abhi Abhi Abhi Gayi Utar
Reflections of your beauty have just entered my body.
Koi Doori Nahi Baki Piya Re
Oh dear, there are no more gaps between us.
Bekhabar Hoke Bahon Mein Soja Meri
Sleep soundly in my arms.
Tu Hawa Aur Main Tera Badal Hua
If you're the breeze, then I'm the cloud.
Hawa Mein Hawa Mein Main Uda
I'm soaring with the breeze.
Dua Se Main Utha Jo Tera Hua Main
I became yours as soon as I finished praying.
Hua Main Ranjhna, Hua Main! Hua Main!
Oh sweetheart, I have… I have become…
HUA MAIN RANJHNA FULL SONG
Raghav Chaitanya's passionate and melodic vocal delivery elevates the emotions embedded in the lyrics. His voice adds a layer of enchantment to the song, making it even more captivating.
The composition by Jam8 and Pritam provides a perfect backdrop for the lyrics and the singers. The music flows seamlessly, creating a harmonious blend with the heartfelt words. The result is a melody that leaves a lasting impact on the listener.
HUA MAIN MUSIC VIDEO
The music video, featuring Rashmika Mandanna and Ranbir Kapoor, visually complements the romantic theme of the song. Their on-screen chemistry is palpable, and their love story unfolds beautifully against the backdrop of a snow-covered hill station and a Hindu temple, adding depth to the narrative.