Find out the meaning of Faiz Ahmad Faiz poetry 'Hum Dekhenge Lyrics' performed by many artists from Coke Studio Season 11. Zohaib Kazi and Ali Hamza are the producers for music. Read the translation of Faiz Ahmed Faiz's Hum Dekhenge Song Lyrics in English.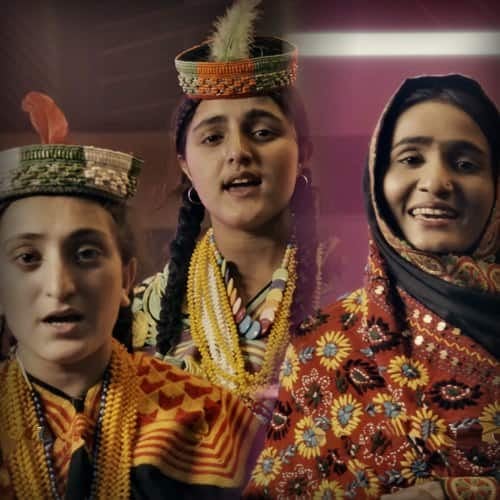 | | |
| --- | --- |
| Song Name: | Hum Dekhenge |
| Singer(s): | Various |
| Language: | Urdu |
| Lyrics Writer(s): | Faiz Ahmad Faiz |
| Composer(s): | Zohaib Kazi, Ali Hamza |
| Video Director(s): | Team Coke Studio |
| Music Publisher: | Coke Studio (YouTube) |
FAIZ AHMAD | HUM DEKHENGE SONG LYRICS | ENGLISH MEANING
Hum Dekhenge, Hum Dekhenge,
We will see. We will see.
Lazim Hai Ke Hum Bhi Dekhenge,
It is inevitable (that) we too shall see.
Hum Dekhenge, Hum Dekhenge,
We will see. We will see.
Wo Din Ke Jis Ka Vaada Hai,
The day that has been promised.
Jo Lauh-E-Azal Mein Likha Hai, Hum Dekhenge
That is written in the book of destiny. We will see.
Hum Bhi Dekhenge, Hum Bhi Dekhenge
We, too, shall see. We also shall see.
Jab Zulm-O-Sitam Ke Koh-E-Garan
When the mountains of oppression and cruelty.
Rooyi Ki Tarah Ud Jayenge, Hum Dekhenge
Will float away like carded wool. We will see.
Hum Mehkumon Ke Paon Tale,
Underneath our feet – we the governed.
Ye Dharti Dhar Dhar Dharkegi,
The ground will echo like a thumping heartbeat.
Aur Ahl-E-Hakam Ke Sar Oopar,
And the sky over the heads of the rulers.
Jab Bijli Kar Kar Karkegi,
Will echo with the sound of thunder.
Hum Dekhenge. Hum Dekhenge.
Bas Naam Rahega Allah Ka,
And only Allah's name will remain.
Jo Gayab Bhi Hai Hazir Bhi,
Who is both elusive and present.
Jo Manzar Bhi Hai Nazir Bhi,
Who is the spectacle and the beholder.
Utthega An-Al-Haq Ka Nara,
'I am the truth' will be the acclamation.
Jo Main Bhi Hoon, Aur Tum Bhi Ho,
Which I am, and so are you.
Aur Raaj Karegi Khalq-E-Khuda,
And then God's own people will rule.
Jo Main Bhi Hoon Aur Tum Bhi Ho,
Which I am, and so are you.
Hum Dekhenge. Hum Dekhenge
We will see. We will see.

Also get to know the meaning of 'Hum Dekhenge' Full lyrics in Hindi from the video shared above. It's a recent interview of Javed Akhtar with TV channel India Today.

The music video for Coke Studio Season 11's opening track Hum Dekhenge voiced by all the artists featured in the particular season. The participating artists are as Ali Sethi, Humaira Arshad, Rachel Viccaji, Asim Azhar, Abrar Ul Haq, Asrar, Aima Baig, Abida Parveen, Shuja Haider, Sahir Ali Bagga, Momina Mustehsan, Ali Azmat, Ataullah Esakhelvi, Sanwal Esakhelvi, Hassan Jehangir, Lucky & Naghma, Haniya Aslam, Ahad Raza Mir, Natasha Baig, Zarsanga, Chand Tara Orchestra, Sounds of Kolachi & followed by many more.