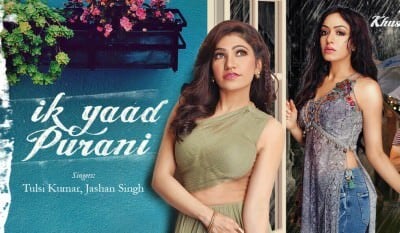 Ik Yaad Purani Lyrics from the duo of Jashan Singh and Tulsi Kumar is a beautiful song filming Khushali Kumar. The song is written by Bhatti Bhariwala while Kumaar has made the additions accordingly. Shaarib & Toshi composed music and Robby Singh is director of music video. Here you can get ik yaar puraani full song lyric.
IK YAAD PURANI SONG LYRICS – KHUSHALI, TULSI KUMAR
Chaand se bichhdi raaton ki
Aashi si mulakaaton ki
Kuch baatein hain dardon ki
Tujhe sunaani ae,
Ik yaad puraani ae
Teri meri kahaani ae
Baarish na samjhi tu
Akhiyan da paani ae -x2.
Ishq di lakeer ka
Kissa hai ranjhe heer ka
Bichode ne uda diya
Ye panna takdeer ka -x2.
Aaj bhi us diwane ki
Ek deewani hai,
Ik yaad purani ae
Teri-meri kahani ae,
Barish na samjhi tu
Akhiya da pani ae -x2.
Khat tere pyar ke
Abhi bhi mere paas hain
Alfaazon mein dhadak rahe
Tere hi ehsaas hain -x2,
Tu to nahi hai saath mere
Teri nishaani hai
Eķ yaad puraani ae
Tèri meri kahaani ae
Báarish na samjhi tu
Akhiyán da paani ae -x2.
Name of Track / Album: Ik Yaad Purani [Punjabi]
Performers: Tulsi Kumar, Jashan Singh
Songwriters: Kumaar
Music Director: Shaarib & Toshi
Video Director: Robby Singh
Music Producer – Aditya Dev