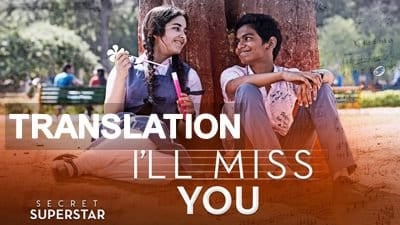 I'll Miss You Lyrics from the Bollywood movie "Secret Superstar" with translation in English – The song has been sung by Kaushal Chokshi. Kausar Munir is songwriter and the music composition has been created by Amit Trivedi. Checkout the meaning of song.
I'LL MISS YOU SONG LYRICS TRANSLATION
Saadhe saat baje, in the morning,
At 7.30 in the morning…
Paune paanch baje, in the evening,
At 4.45 in the evening…
Jab pehli baarishein shuru hongi,
When the first rains fall…
Jab summer holidays khatam honge,
When the summer holidays come to an end…
Khushi mein bhi kabhi,
Sometimes in joy… sometimes in sorrow…
Gum mein bhi kabhi, Bewajah kabhi..
and sometimes for no reason at all…
I'll miss you,
Ho tane prem karu choo.
I'll miss you. I love you.
Ho tane prem karu chu,
I love you.
Guzurunga jab bhi tere gate se,
Whenever I pass by your house…
Karlunga tera zara sa wait main,
I'll wait a little for you.
I know tu kabhi bhi nahi aayegi,
I know, I won't see you there.
Ho jaunga zara sa late main,
I know, I'll end up getting delayed.
Chaye khariyan, in the morning,
When I have tea and cookies in the morning…
Cold coffee' an, in the evening,
When I have cold coffee in the evening…
Jab Happy Birthday tera hoga,
When your birthday comes by…
Jab Happy Birthday mera hoga,
When my birthday comes by…
31'st December, 14th feburary,
Navratri,
31 st December, 14th February, Festival of Nine Nights…
I'll miss you,
Ho tane prem karu choo,