Iraiva Song Lyrics with translation in English from 'Velaikkaran' by Anirudh Ravichander & Jonita Gandhi is an amazing Tamil duet song. Find out the meaning of Iraiva lyrics.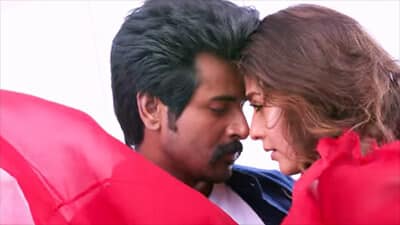 VELAIKKARAN | IRAIVA SONG LYRICS ENGLISH MEANING
Uyire En Urave, Unai Vittu Povadhum, Savadhum Ondruthan,
Irave En Pagale, Ini Varum Nalellam, Un Vizhi Munbu Than,
Oh my life, my love! Leaving you is the same as dying
Oh dusk, Oh my dawn!My days henceforth, will be on your gaze!
Pizhai Enum, Thuyar Theendamale,
Thunai Irundhidum, En Kadhale,
Ilakkanam Edhum, Paramale,
Adaikalam Nan, Un Marbile,
Untouched by farewell's gloom, You were my consort, my love!
Impervious to mien, I'll seek solace in your heart!
Uyir Vidum Varai, Unnodu Than,
Unai Vittal Udal, Mannodu Than,
Nan Enbathu, Nan Mattuma,
Nee Koodathan, Ododi Va,
Till eternity our love lasts
Without it, I'm just a corpse!
'ME' isn't just me
It's you my love, run towards me!
Kadu Malai, Thandalam, Kalgal Ranam Agalam,
Thooya Perum Kadhalin, Azham Varai Pogalam,
Nan Virumbi Adaiyum Pon Silaiye Silaiye,
Nee Virumbi Aniya Nan Sirage Sirage,
We'll meet hurdles. We may even get weary.
And face the depths of pain, my love.
You're the prison I wanna be caged in!
I'm the fondling feather you'll cherish!
Oh Nirandharam Ena Edhum Illai,
Nigalndhidum Ivai Nalai Illai,
Irundhidum Varai Poradalam,
Eri Malai Yilum Neer Adalam,
There's no permanence; Today's just an illusion.
We'll rage till we die and chill on a volcano!
Uyir Vidum Varai Unnodu Than,
Unai Vittal Udal Mannodu Than,
Nan Enbathu Nan Mattuma,
Nee Koodathan Ododi Va (x2).
[Va Va Va Va]