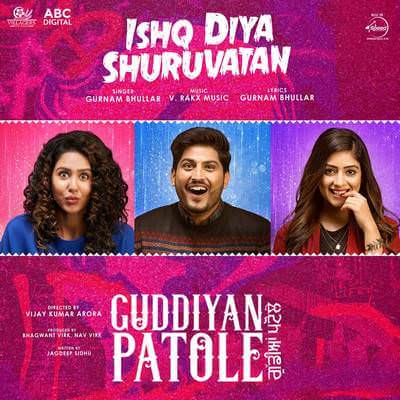 Lyrics to 'Ishq Diyan Shuruwatan' also spelled as 'Ishq Diya Shuruvatan' by 'Gurnam Bhullar' is brand new romantic song from his film 'Guddiyan Patole' featuring Sonam Bajwa.
Ishq Diya Shuruvatan Lyrics from the latest Guddiyan Patole Punjabi movie has been sung, written by Gurnam Bhullar with its musical compisition created by V. Rakx Music.
ISHQ DIYAN SHURUWATAN (SHURUVATAN) | SONG LYRICS
Ponch janiya ohde tak eh
Dil diyan sab gallan,
Tak-tak rooh cho uthan giyan,
Jo paani wich chhallan (x2),
Saahan nu vi sahan di jad aadat pai jani,
Naina ne naina di sajjna,
Aape keh jaani,
Kambakht jeya hojenga,
Fer jachniya nai parbaatan,
Hauli-hauli hon giya
Eh ishq diyan shuruvatan (x2).
Galat andaze laya na kar,
Beparwah ban na,
Tuvi dangeya jawenga
Jad khair khuwatan na (x2).
Akhon ohle hoya jad oh,
Chain nahi milna,
Tainu tere bhullar bin,
Kite rehn nahi milna,
Phir chaanan fabbna nai,
Moh gaiyan jad barsatan,
Holi-holi hon giyan
Eh ishq diya shuruvatan (x2).
Dhupan wich vi aun nazare,
Nigge hon ge kore,
Gali-baati ambar de nal,
Dil de mudhe tore (x2),
Rang nazare tainu fikke-fikke laggan ge,
Phullan de vi naam tainu,
Ohde warge laggan ge,
Tere nal hassan layi,
Khud aaun giyan saugatan.
Hauli-hauli hon giya
Eh ishq diyan shuruwatan (x2).
Rab da mehram tera hoya,
Ehi kaafi laggna,
Jism tere ton wakhra ohda,
Wakhra naiyo lagna (x2),
Geetan wangu kheyal tere vi,
Geet hi ban jane,
Vekhi eh karishme tere haddi rach jaane,
Din sust jeya japuga,
Gallan karan giyan fer raatan,
Holi-holi hon giyan, eh ishq diya shuruvatan (x2).