Ishqan De Lekhe part 2 Lyrics is continued version of the most beautiful song by Gurjas Sidhu.These lyrics of the song are crafted by PS Chauhan with music given by Prince Saggu. The song "Ishqan De Lekhe Continues" has been re-released by Speed Records music company.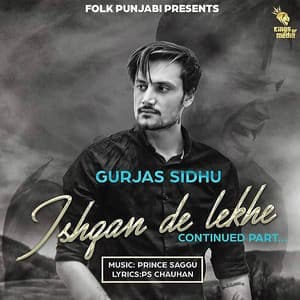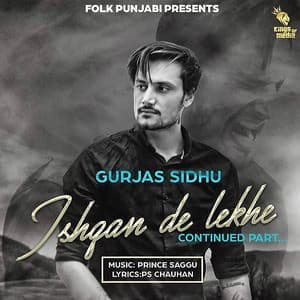 Album: Ishqan De Lekhe 2 Continues
Singer: Gurjas Sidhu
Music: Prince Saggu
Lyrics: PS Chauhan
Label: Folk Punjabi/ Speed Records
Ishqan De Lekhe Continued Part 2 Lyrics – Gurjas Sidhu
Sadi taan viche hi rul gayi prem kahani ji
Main si ohde dil da raja
Dil oh rani si,
Vakh nai si hona chaundi
Ohdi majburi si,
Goorha si pyar hi aina
Bauti na doori si.
Akhiyan larh jaawan jad vi
Neendan na pendiyan ne,
Sajjna di taangh 'ch eh
Har wele rehndiyan ne.
Uchi thaan laake yaari
Sochan nal larhda haan,
Ohnu koi dosh na deke
Apne sir marhda haan.
Ethe tak safar jo ohda
Chete na bhulna ae,
Tainu nai pata Chauhan'a
Ohde bin rulna ae.
Bhuldi na pal vi
Mainu sat saala yaari si
Mauke te aake kismat
Sadi hi haari si.
Sadi jo likhi kahani
Asli oh paatar si
Ohne na kari chalaaki
Kismat ho shaatir si.
Kihnu hun daiye suneha
Mudke ohde aune da,
Ghatda na bhora sabar vi
Dil ton ohde chaune da.
Supne si lamme ohde
Khaure kyon dakk laye
Kaude si ghut sabran de
Jede ohne shak laye
Piche taan das ke jandi
Modaan kinjh ghadiyan nu,
Sochan nu deyan ulaambhe
Sikhran te chadiyan nu.
Rabba ohnu kehde jaake
Yaadan vi laija tu
Sadi nai sun ni jekar
Apni taan kehja tu
Sidha dang dil nu janda
Masoom ohda chehra si,
Thode 'ku samay da ohda
Zindagi vich fera si (x2),

Zindagi wich fera si.