Ishqan De Lekhe female version is another cover song with its beautiful lyrics sung by Kaur Mandeep.Money On The Beat has reproduced music of the ballad while Sukh Sosan Wala has penned down lyrics of this female vol.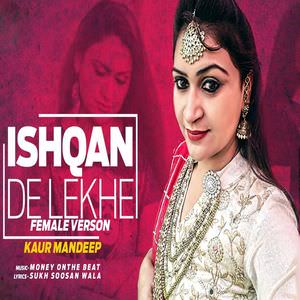 Song : Ishqan De Lekhe
Singer : Kaur Mandeep
Music : Money On The Beat
Lyrics : Sukh Sosan Wala
Label : Speed Records
Ishqan De Lekhe Female Lyrics – Kaur Mandeep
Ishqan de lekhe lag gayi
Umraan di poonji ji
Yaadan de raah sultani jaane aa hoonji ji (x2),
Tu ta ni vakh hoya si
Main vi taan hoi ve,
Joban di rutte sajjna
Kina main royi ve,
Ainvaye tu mehne maare
Zulfaan diyan gallan kehke,
Turdi payi zindagi sajjna
Hauke te hawaan laike.
Bhulli haale vi ni sajjna
Mithiyan oh baatan nu,
Main vi taan katteya jaag ke
Sukh ohna raatan nu.
Chete kar gallan teriyan
Dil mera ronda ae
Kalli main ajj vi jaagan
Jag sara saunda ae.
Ajj vi main dewaan tainu
Darja us rabb da ve,
Ajj vi main kardi tere
Pairaan nu sajda ve (x2).
Wanga ki tuttiyan sajjna
Tut gaye ve naate si
Ishqan de rang si goorhe
Manzil adh-vaate si.
Appan ni keeta dhokha
Kismat hi haar gayi,
Koshish taan main kiti
Palle fir haar payi,
Dil taan si sacha mera
NIbhna vi chaundi si main.
Paake tere na da choora
Auna vi chaundi si main.
Oh vi jee layi zindagi
Bhaawein din chaar si.
Dilan nal dil di khadki
jadon kade taar si,
Ainvaye na Sosan waleya
Geetan vich maari mehne,
Agle main janam milungi
Je hoya karmi mere (x3).
Ishqan de lekhe lag gayi
Umraan di poonji ji
Yaadan de raah sultani jaane aa hoonji ji (x2),