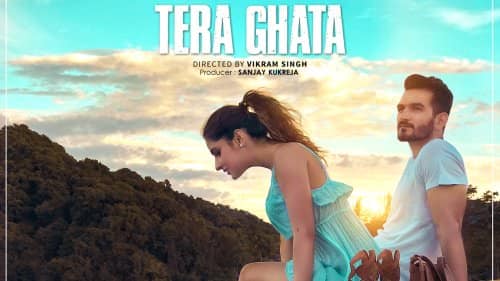 ISME TERA GHATA is a viral Hindi song and its lyrics are with English translation to describe the meaning of song verses. Gajendra Verma is songwriter, music composer and vocalsit. Vikram Singh is director of music video "Tera Ghata" produced by Sanjay Kukreja. The Karishma Sharma and Gajendra Verma starring romantic song video has released from Virtual Planet Production.
TRANSLATION OF ISME TERA GHATA SONG LYRICS
Kuch sochke bola hoga tumne
Ye pyar bhi tola hoga tumne
Ab naah hai toh naa sahi dilbar
Is dil ko ye samjha liya humne.
You might have thought of our love before saying it,
It's okay I will I said to my heart,
Since now we're not together anymore.
Isme tera ghata
Mera kuch nayi jaata
Zyada pyar ho jaata
Toh main seh nayi paata -x2.
It's your loss in it,
It doesn't effect me,
If I had fallen in deep love with you,
It was terribly hard for me to bear it today.
Kush khas tha ye jaan leti jo
Meri nazar se dekha hota tumne
Is baat ka bas gham huwa mujhko
Thodi si bhi koshish na ki tumne.
There was something special in us,
You would only know if saw it from my perspective,
It saddens me that you didn't even give it a try to make it work between us.
Ismein tera ghaata
Meraa kuchh nahi jata
Zyaada pyaar ho jata
To main seh nahi pata -x2.
It is your loss in it, I don't lose anything,
If I was in deep love, I wouldn't be able to take this.
Socha nahi tha zindagi mein yun milogi
Milke ke bhi tum na meri ho sakogi
Par yaad aayegi jab bhi tumhari
Shikayatein na hongi bas dua rahegi.
Never thought that I would meet you,
And you won't become completely mine,
But whenever I miss you, there won't be any complaints but just prayers.
Ab aur kya kehna hoga humne
Karna tha jo woh kar liya tumne
Shayad rahun ya na rahun dilbar
Badla kabhi ye faisla tumne.
Now what more I have to say,
You have already done what you had to,
Dear, I may live or die,
Did you ever change this decision of yours.
Isme tera ghata, mera kuch nai jata
Zyada pyar ho jata, toh main seh nai paata -x2.
In this, it is only your loss not mine,
I wouldn't be able to survive out of this if I was in really deep love with you.
| | |
| --- | --- |
| Album or Song Name: | Tera Ghata (Hindi) |
| Artists: | Gajendra Verma, Karishma Sharma |
| Lyrics Writer: | Gajendra Verma |
| Video Director: | Vikram Singh |
| Music Director: | Gajendra Verma |
| Label: | Virtual Planet Music |