Jaago Jaago Bakre from the Hindi movie 'Pushpa' featuring Allu Arjun, Rashmika Mandanna is a magnificent song, and it has engaging vocal music by Vishal Dadlani. The angelic lyrics of the anthem are given by Raqueeb Alam. Devi Sri Prasad is the producer of JAAGO JAAGO BAKRE's favorable music. The flamboyant music video of the tune is managed by Sukumar.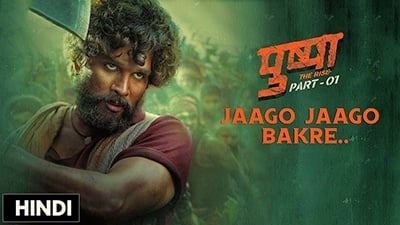 PUSHPA HINDI MOVIE • JAAGO JAAGO BAKRE FULL SONG LYRICS
Pattiyan Khateen Hain Kirnen,
Pattiyon Ko Khata Hai Bakra,
Bakre Ko Sher Daboche,
Bhookh Se Koi Na Bache,
Maut Ka Sher Pe Qaboo,
Samay Ka Maut Pe Qaboo,
Kali Samay Ko Rache,
Maha Bhookh Phir Mache,
Bhage Shikar Jidhar,
Peeshe Daode Shikari Udhar,
Jeeta Shikar Jee Lega Ek Din,
Hara Shikari To Jeena Namumkin,
Ek Jan Ki Bhook Mitane Ko,
Ek Jan Ki Maut Hona Zaroori Hai,
Hey Jago Jago Bakre,
Sher Aya To Kardega Tukde,
Chera Hai Mashli Ka Chara,
Dana Hai Murgi Ka Chara,
Hadi Hai Kutton Ka Chara,
Jeevan Hai Ye Insanon Ka Chara,
Kali Ki Puja Jo Kare,
Janwar Jo Bali Chadhe,
Lahu Se Khanjar Shidh Kare,
Devi Kare Bhi To Kya Kare,
Yahi Hai Duniya Kya Kare,
Rahna Tu Hoshiyar Nahi To,
Khaega Chara Tujh Ko,
Jeena Hai To Bhookh Badha Ke,
Kha Le Tu Khud Chare Koha,
Bhookh Na Dekhe Bhala Bura,
Niti Na Dharam,
Hoga Uska Raj Yahan Pe,
Jis Men Hai Re Dam
Hey Jago Jago Bakre,
Sher Aya To Kar Dega Tukde
Mange Se Mila Hai Kisko,
Mango To Kahega Khisko,
Utha Uthake Patko,
Jo Chahe Wo Milega Tujhko,
Lat Jo Kam Kare,
Bhai Bhi Na Kar Paega,
Muka Jo Path Padhae,
Budh Takta Rah Jaye Re.

Pushpa Film's Jaago Jaago Bakre Music Video | Ft. Allu Arjun, Rashmika Mandanna
Check out the funky music video for Jaago Jaago Bakre from a flamboyant movie Pushpa.
Let's check out Jaago Jaago Bakre Song Lyrics that Vishal Dadlani charmingly performed and are featured in the Pushpa film of Allu Arjun, Rashmika Mandanna . The lyrics writer drafted down the Jaago Jaago Bakre Hindi lyrics and Sukumar operatedthe music video.