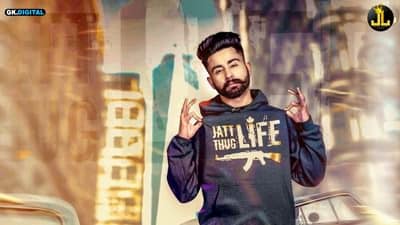 Jatt Life with compelling Punjabi lyrics and energetic vocals of Varinder Brar is a new anthem released by Jatt Life Studios music company. Gill Saab, Skenny Beatz are directos of music and video of "JATT LIFE" starring Varinder Brar has been created by True Roots Productions under the direction of Harry Chahal.
JATT LIFE SONG LYRICS
Ho koyi mirtran naa' khaije eh ho ni sakde,
Jatt de tar koi kho ni sakda,
Mapeyan de nal dili saanjh rakhi aa,
Oh tera gaddwa husan sanu moh ni sakda (x2).
O maadi karda kade ni
Billo jarda kade ni,
Sanu baabe wallon diti puri good life aa,
Jatt life sadi puri thug life aa,
Paise-poosay wallon chib kadd life aa (x2).
Oh velly karde salaam sadi gaddi dekh ke,
Naaran hundiyan ne hang taur kaddi dekh ke,
Ho vailly karday salaam
Saddi gaddi daikh kay,
Naraan hundiya ne hang,
Tohar kaddi daikh kay,
O vaddi mantri vi vote' an layi ne hath add de,
Line mitran de pichay laggi vaddi dekh ke,
Oh follow karde nu rule,
Paida karde asool,
Jaane jag sara sadi fatte chak life aa.
Jatt life saadi poori thug life aa,
Paise-poose walon chibb kadd life aa (x2).
Oh gall google de layi khas hundi ae,
Jedi naam sade utte vardaat hundi aa,
Oho gal google de layee
Khaas hundi aa,
O jehdi naam saday uttay vaardat hundi aa,
Jadon gun' a de shukeen sare yaar chandre ni,
Das asle di kithon fer ghaat hundi aa,
Rehnde kudiyan ton door
Sara gusse da kasoor
Kehnde laina ki ae jadon sadi gun wife aa.
Ni tu ik wari naam mera laina baliye,
Ni har banda mannu sun tera kehna balliye (x2),
Othay police da auna jana ban balliye,
Ni jehde thaan te varinder da behna baliye,
Munda karda ni chase bas kare replace,
Ah lalli-shalli naalo puri add life aa,
Jatt life saddi puri thug life aa,
Paise-poosay wallon chib kadd life aa (x2).
Ho struggler bandeya nu aithe,
Ah duniya dasdi neyane aa,
Apni umran ton vadh ke,
Ainve ban' de seyane aa.
Aa area ch gall jahi uddi aa,
Koyi aa reya todan layi rakaad,
Gaane likhay gussay wich aake,
Behke sun Varinder Brar.
Enjoy the Punjabi music video 'Jatt Life' with lyrics and voice of new-comer Punjabi artist Varinder Brar.