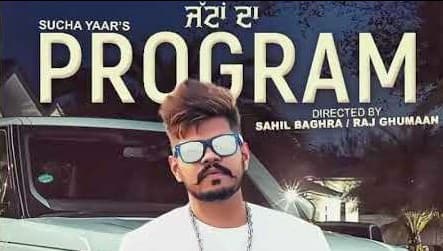 The lyrics to Jattan Da Program song with tuneful music are hummed by Sucha Yaar featuring Raavi Kaur Bal & Divya Sharma in music video. Harnav Brar is creator of music and the music film has direction of Sahil Baghra & Raj Ghumaan.
SUCHA YAAR – JATTAN DA PROGRAM FULL SONG LYRICS
Keda aa brand
Jedi gaddi naiyo khadi ni,
Oh virla hi hona
Jihdi akh naiyo chadi ni.
Chitte kurte pajame
Mush lagdi kamaan
Ohde hathan wich webley di
12 bore fadi ni.
Pittal de kholan nal karde makholan,
Saare vehde wich paye ne khalaare.
Hona koi progam khas jattan da
Taiyon marde firan lalkare.
Honaa koyi program khas jattan da
Tahiyon marde firan lalkaare.
Check Daniel te challe Regal Chivas
Naale kayi shukeen sip-sip de
Suche yaar jahe kujh desi de drum
Petrol de takille dekh khich de.
Langhugi Faridkot nachdeyan raat
Geet challne didar wale saare.
Hona koyi program khas jatta da
Tahiyon maarde phiran lalkare.
Yaaran naal yaar khade jachde
Paunde aa khadaak balliye
Ni sand photo-an khachaun nu na rakhde.
Chakki firde ne kayi baretta de brand
Te kayi pakkiyan di modeyan nu laayi firde,
Peya naiyo hona kise change suneyar kol
Hathan wich sona jina paayi firde.
Diamond de koke kaiyan kanna wich paaye
Sau koh ton paun chamkare.
Hona koi progam khas jattan da
Taiyon marde firan lalkare.