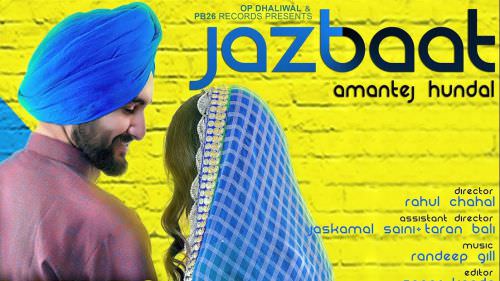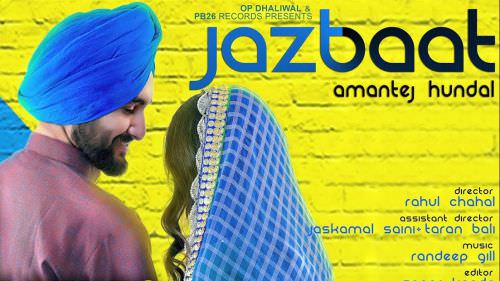 Jazbaat is the most freshly performed song of Amantej Hundal, The talented artist also drafted its Punjabi lyrics and deserving music composition is given by Randeep Gill. Rahul Chahal is director of music video which stars Jasmine Bamba & Amantej. PB 26 Records name music company released "JAZBAAT" song today.
Meaning of chorus: There are many feelings in my heart which I am shy to tell you about.
AMANTEJ HUNDAL NEW JAZBAAT SONG LYRICS
Jadon sochan tere baare soneya
Baaki bhul jande saare soneya,
Jado mukh tera tak laine aan
Change lagde na taare soneya,
Ik tere naal laavan leniya
Duji mang rabb ton ni mangde,
Unjh dil ch taan kayi feeling-an
Tere moore aake rahiye sangde.
Sade raah tere wal jande ne
Sada vass koi vi ni challda
Chit kahla-kahla payi janda ae
Utton phone vi na chakkein kal da.
Tethhon has ke bulaya jave na
Sade haase ese gallon tang ne.
Unjh dil ch ta kai feeling' an
Tere murre aa ke rahiye sangde.
Ik vaari apna le soneya
Tuhi rab sada tuhi jag vi
Tainu dekheya te jee naiyo bharda
Tainu samajh kyon ni lagdi.
Chit lagda na ohna dina nu
Jede teri deed bina langde.
#Unjh dil ch taan kayi feeling-an
#Tere moore aake rahiye sangde.
Kite hor kise naal mangti
Main ta marjungi jeyondi jaagdi
Ik beparaiyan tu ae karda
Duja sun chaade seet maagh di.
Khanne rehna teri ban Hundal'a
Leji aape maapeyan ton mang ke.
Unj dil 'ch ta kayi feeling'an
Tere murre aake rahiye sangde