Jazbaati Bande is a gorgeous song, and it has glamorous verbals by Kd, Khasa Aala Chahar. The captivating lyrics of the tune are scripted by Khasa Aala Chahar, Kd. DJ Sky is the fabricator of JAZBAATI BANDE's delectable music. The immense music video of the engaging canto is superintended by Ricky Rapria, Shekhar Salaria.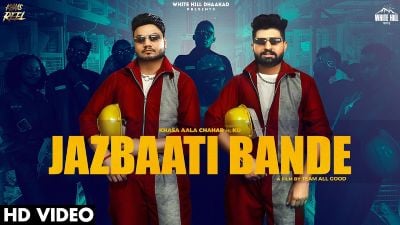 | | |
| --- | --- |
| Track Name : | Jazbaati Bande |
| Backing Vocalist: | KD, Khasa Aala Chahar |
| Lyricist: | Khasa Aala Chahar, Kd |
| Instrumentalist: | DJ Sky |
| Director: | Ricky Rapria, Shekhar Salaria |
KHASA AALA CHAHAR · KD · JAZBAATI BANDE FULL SONG LYRICS
Yeah Kd Desi Rock,
Khasa Aala Chahar,
Dj Sky,
Le Kahich Ke Le Bhai,
Yara Ne Yari Rakhi,
Upar Aan Pehle Din Te,
Ha Ha Unka Ae Jikra,
Darrke Baitha Tu Jin Te,
Bande Jajbati Se Bhai,
Bhitar Te Kale Na,
Yari Mein Khula Barta,
Rakhe Koye Tale Na,
Mahre Te Madha Bola,
Zero Pe Ap Khade Se,
Itna Sasta Na Bhai,
Kismat Te Ap Ladae Se,
Charche Mahri Yari Ke Oye,
Sare Mashoor Se,
Yari Mein Ghate Vadhe,
Sare Manzoor Se,
Bairi Bhi Maf Kar Deva,
Lage Mare Sale Na,
Yari Main Khula Barta,
Rakhe Koye Tale Na,
Yeah Ae Ji Oo Ji,
Lo Ji Suno Ji,
Rap Shuru Ho Lea Hai,
Dhayan Thoda Do Ji,
Yeh Chore Manmoji Hai,
Man Ki Kare,
Na Yarian Me Bat,
Dhan Ki Kare,
Ure Gun Ki Kare Na,
Tu Ad Mere Bhai,
Rakha Hum Bhi Khilone,
A To Z Mere Bhai,
Tere Beham Ho To,
Beham Dhyange,
Kadh Mere Bhai,
Koni Sauce Lake Khande Re,
Bread Mere Bhai,
Bad Mere Bhai Kade,
Thought Koni Rakhde,
Re Batua Main Ginke,
Yeh Note Koni Rakhde,
Gel Khade Yar Jan,
Den Ne Bhi Tyar,
Bete Tere Ki Ju Nirre,
Gud Rot Koni Rakhde,
Jangla Ke Sher Sare Nidar Chale,
Dhul Uthe Janu Kafile,
Main Leader Chale,
Jagat Jeet Aali Chale Se,
Machine Pura Seen,
Mahare Kheta Main Yan Dekh,
Super Seeder Chale,
Kade Jeeter Chale,
Kade Chale Sawraj,
Re Tralia Pe Got Hain,
Kisana Ka Rivaj,
Fortuner Endeavaran Ke,
Ghal Rakhe Gear,
Chale 40 40 Lakh Aale,
Udte Ye Jahaj,
Takdae Yara Ke Rolae,
Takdae Se Tama Jhama,
Parsu Tane Darj Karya Se,
Yara Te Raji Nama,
Man Main Jo Ave Kar Lan,
Loka Ki Tatt Na Mari,
Yara Ki Begam Par Hoye,
Apni Kade Ghat Na Mari,
Thuk Ke Chat Leve Jo,
Ve Gama Ale Na,
Yari Main Khula Barta,
Rakhe Koye Tale Na,
Dekh Number Plate,
Pura Rob Hr Ka,
Je Bhaiya Gelya Ban Je,
Program Bar Ka,
Puri Khola Vaj,
Adha Sheesha Khola Car Ka,
Re Gana Baje Kd,
Aur Khasa Aale Chahar Ka,
Yar Ka Swag Puri Duniya Te Top,
Chintu Candiya Ki,
Mahare Agge Film Flop,
Kade Ragni Bhi Chale,
Kade Beat Baje Pop,
Kade Look Jama Desi,
Kade Pure Hip Hop,
Re Scope Koni Dhoke Ala,
Kise Ka Bhi Hood Main,
Aakh Rakhe Lal,
Bhole Role Aale Mood Mein,
Padhe Na Farak,
Gino Bad Mein Yan Good Mein,
Rob Dekh Ditto,
Sanjay Dutt Bolywood Mein,
Yari Main Khula Barta,
Rakhe Koye Tale Na,
Let's read the mesmeric lyrics of Khasa Aala Chahar, Kd's most recently released Haryanvi song Jazbaati Bande. The lyricist Khasa Aala Chahar, Kd produces the number one lyrics.