"JEEVA" is a song that brightens life with its vibrant lyrics and music, and it's poised to be a standout in the Kannada music scene. This song is part of the movie "Bad Manners," directed by Suri, and it brings together a talented ensemble, including the charming Abishek Ambareesh and the versatile Rachitha Ram.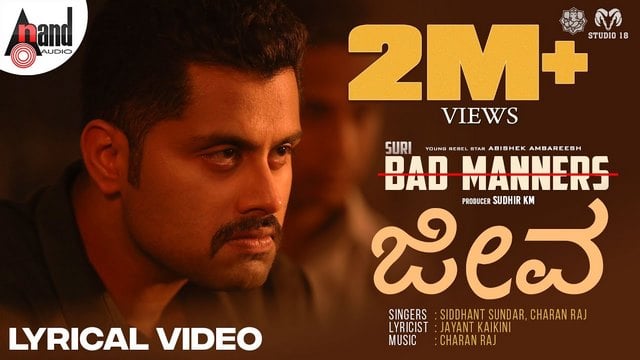 The lyrics of "JEEVA" resonate with the themes of rejuvenation and hope. It calls for erasing all the pain and starting anew, a sentiment many can relate to. The lyrics, penned by the illustrious Jayant Kaikini, capture the essence of life's ups and downs and the need to find something more. The song beautifully conveys that embracing life's challenges and turning them into opportunities is always possible.
Siddhant Sundar and Charanraj's voices infuse the song with energy and emotion. Their vocal chemistry adds depth to the lyrics and enhances the listening experience. Charanraj's composition shines through as he masterfully blends the elements of the song to create a harmonious and melodious tune.
BAD MANNERS MOVIE | JEEVA SONG LYRICS
Jeevanannu Belagoke Bekondu Kidi
Novanella Alisoke Sakonde Nudi
Beru Bittu Nilloke Bekondu Nela
Ella Tiddi Bareyoke Sakonde Chala
(Chala! Chala!)
Khali Ide Padabandha Ninagagi
Kayutide Tiruvondu Kathegagi
Jagarada Ratriyali Aledu
Muchiruva Peteyali Kundu
Godegala Mounavanu Muridu
Lekka Bega Chukta Madu
Odadeye Patragala Haridu
Beediyali Chitragala Baredu
Ukki Baro Modagala Tededu
Lekka Bega Chukta Madu
O Samaya Helu Neene
Sari Endarenu Tappandarenu
Naduve Gere Untenu
Tadavilla Tadavilla Tadavilla Biriyoke Mugilu
Tadavilla Tadavilla Tadavilla Bisilondu Baralu
Tadavilla Tadavilla Tadavilla Kaledaddu Sigalu
Khali Ide Padabandha Ninagagi
Kayutide Tiruvondu Kathegagi

JEEVA MUSIC VIDEO
The song's visuals in the movie must be eagerly anticipated. With Abishek Ambareesh and Rachitha Ram as the lead actors, there's no doubt that their on-screen chemistry will bring the lyrics to life. Director Suri's vision and storytelling prowess promise to make this song a memorable part of the movie.
JEEVA SONG DETAILS
Title
Jeeva
Movie
Bad Manners
Singer(s)
Siddhant Sundar, Charanraj
Lyrics Writer(s)
Jayant Kaikini
Music Composer(s)
Charanraj
Actor(s)
Abishek Ambareesh, Rachitha Ram