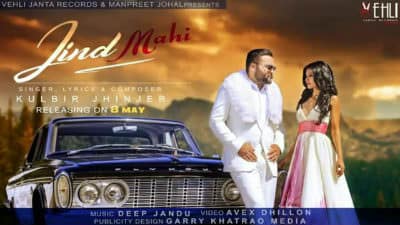 Song Title: Jind Mahi
Singers: Kulbir Jhinjer
Music Director: Deep Jandu
Lyricist: Kulbir Jhinjer
Label: Vehli Janta Records
Jind Mahi Lyrics by Kulbir Jhinjer – One again Deep Jandu and Jhinjer have reunited to produce a new song named as "JIND MAHI." The singer also penned its meaningful verses released from the music company of Vehli Janta Records.
KULBIR JHINJER's NEW JIND MAHI SONG LYRICS
Intro,
Na kache ghade di ae
Na eh jand di eh
Na chaake majjiyan di
Na khuhan di eh
Lokan tan di banayi hoi ae
Dar'asal gal roohan di ae.
Ho jind mahi, ho jind maahi
Ho jind maahi ambiyan nu pe gaya boor
Kundi mush te…
Kundi mush te mar gayi hoor
Sochan vich langhi raat ve saari
Sooli te tang geya ve..
Sooli te tang geya kudi kuwari.
Baby, You know I love you
I think about you all the time
You think about me, huh ?
Munda Jhinjer-an da!
Ishq kaude zehar jeya
Mithi chuski denda ae
Wal jeyon da vi denda
Eh jaan vi lainda ae.
Asi vekhya swad chakh ke
Sajjan manaye jande
Pairan utte sir rakh ke.
Ve jind mahi sonay da tu gehna
Ve tere baaj nai
Na tere baaj jatti ne rehna
Ve bahwein sir te fer de aari
Suli te tang geya ve..
Suli te tang geya kudi kuvari.
Laake naal Baloch'an de
Gum dhondiyan vekhiyan main
Yaar ton vakh hoke
Kayi rondiyan vekhiyan main,
Ve darr khaave vakh hon da
Jhinjer'a ke shad jaana
Faida ki yaari laun da
(Ki ae Faida).
Vey jind mahi jaan nikaldi meri
Vey aundi car ve
Vey kaali car vekh ke teri
Ho chitta kurta kaim sardari
Suli te tang gaya ve
Suli te tang gaya kudi kuwari.
Thandi va hove chaldi
Shaam dhali hoyi hove
Hoiye sunneya raahan te
Taara koi koi hove,
Reejh tenu seene laawan di
Bolaan ton na mukardi main
Taang rakhdi nibhawan di.
Ve jind mahi mulakat jad honi
Ve tenu galwakdi
Ve ghut ke galwakdi main pauni
Ve tainu gal samjhauni saari,
Sooli te tang geya ve..
Sooli te tang geya kudi kuwari.
Aa geya ni tera jind mahi.