Jind Lyrics – Amrinder Gill | Bambukat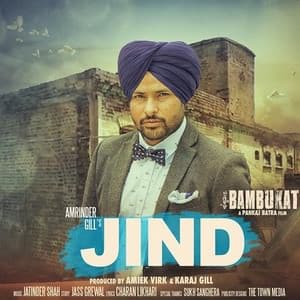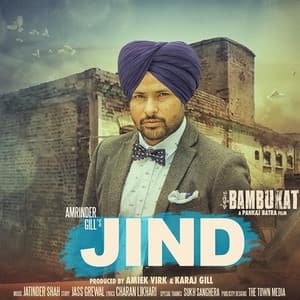 Jind Lyrics in melodious voice of Amrinder Gill from new Punjabi movie 'Bambukat' is entertaining song with music composed by Jatinder Shah.Lyric of song 'JIND' are written from the hands of Charan Likhari & released under the music label of Rhythm Boyz Entertainment.
Song: Jind
 Movie Name/ Album: Bambukat
Singer: Amrinder Gill
Music: Jatinder Shah
Star Cast : Ammy Virk, Binnu Dhillon and Simi Chahal.
Lyrics: Charan Likhari
Label: Rhythm Boyz
Jind is folk touch Punjabi song produced by well-known music director 'Jatinder Shah' and sung by Heartthrob 'Amrinder Gill.'
Jind (Bambukat) Song Lyrics
Tere naam to roz kabootran nu,
Pawaan bhor ke ann diyan burkiyan main,
Khabran dase je teriyan daak wala,
Deva kanna cho laah ke murkiyan main,
Tere jaan magro gutaan gundiyan na,
Gundiya na main gutaan gundiyan na,
Naa hi vartiyan bindiya surkhiyan main [x3].
Instrumentals break,
Gehne kapre rehne mere maas utte,
Roohan nikalna deh vichon nangiya ne,
Asaan naina ne haale tak rakhiyan ne,
Cheti baud ve jinda hathon langhiya ne,
Tere baaj kise na meri baat suni,
Baat suni na, meri baat suni,
Hun maut de wal nu tur payi aan main [x3].
Tut jawna ant nu taar paayi,
Naiyo vajna fer sarangiya ne,
Pena uthna lagiyan mehfilan cho,
Nahiyo rokna sathiyan sangiya ne,
Soore sadaa na kacheya vich rehne,
Naa rehne, bai naa rehne,
Keele tapne naal bulandiya de [x3].