Judaayi Lyrics (also written as Judaai) from most talented artist Harish Verma is a romantic-sad Punjabi song. Mix Singh is music producer and Kulshan Sandhu is songster who came up with stanza.
Gurdas Media Works (Parth Gupta & Gurdas) created music video of "JUDAAYI" song and lyrics to it are mesmerized by Harsh Verma, released by T-series Apna Punjab.
HARISH VERMA SONG JUDAAYI WITH LYRICS
Pehlan din mere langhde si
Waang hawavan de
Oh din vi muk gaye ve
Naal mereyan chaawan de..
Tu raah wakh kar laye ve
Dukh kiddan jar laye ve
Doori paayi te..
Main taare gin laye si
Yaari laayi te
Hun mukde na chandre
Tere payi judayi te…
Eh chaadar ambran di
Kite kafan hi ban jaawe
Ya jaan nikal jaawe
Ya sohna mann jaawe -x2.
Main sab kujh haaran ve
Na aawin yaara ve
Phir maut aayi te..
Main taare gin laye si
Yari layi te, hun mukde na chandre
Teri payi judaai te -x2.
Meaning of the chorus of song judaayi by harish verma / Translation:
I counted all the stars when I just fell in love with you
(I was really excited that I didn't even realized when time passed so quickly)
But now I just keep looking at the stars and they seem too many to count.
(feels like time has slowed down and doesn't pass at all while we are separated.)
Kulshan main gal lagg ke
Tere rona chaundi ve
Teri khushbu mere cho
Haye ajj vi aundi ve,
Haan ajj vi aundi ve.
Muhon kujh an kehni aan
Bas chup hi rehni aan
Mera dil duhayi de…
Main taarey gin laye si
Yaari laayi te
Hun mukkde na chandrey
Teri payi judaayi te -x2.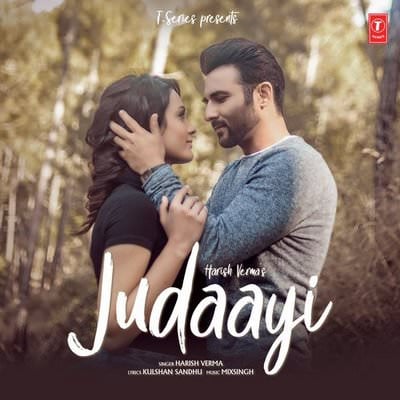 | | |
| --- | --- |
| Song Name: | Judaayi (Punjabi) |
| Artists: | Harish Verma |
| Lyrics Writer: | Kulshan Sandhu |
| Video Director: |  Gurdas Media Works |
| Music Director: | Mix Singh |
| Label: | T-Series Apna Punjab |