Kaadhalai Solla Mudiyaadha Lyrics AKA 'Uyirinai Kadhal Thangatha' from the Tamil movie 'Galatta Kalyanam' featuring Akshay Kumar, Dhanush is a marvellous song, and it has remarkable voice lent by Shashaa Tirupati, Yazin Nizar. The neat lyrics of the Kaadhalai Solla Mudiyaadha theme are documented by Kabilan. A.R. Rahman is the artist of KAADHALAI SOLLA MUDIYAADHA's breathtaking music. The top-notch music video of the canto is ruled by Aanand L Rai.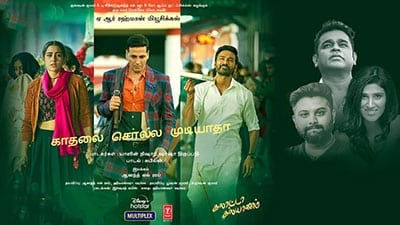 GALATTA KALYANAM TAMIL MOVIE · KAADHALAI SOLLA MUDIYAADHA FULL SONG LYRICS
Kadhal Poo En Kadhal Yadhum Un Aladho
Kanave Kanave Kannai Kadanaga Tharuvaiyo
Adiye Adiye Uyirinai Kadhal Thangatha
Oru Vizhiyavathu Thoongatha
Mozhi Irundhum Vazhi Irundhum
En Kadhalai Solla Mudiyadha
Oru Vizhi Inbam Anathadi
Oru Vizhi Vanmam Anathadi
Minsaram Reengaram
Irandukkum Naduve Thavithene
Vasam Adhu Vasam Veesuthadi
Vasam Adhu Vasam Veesuthadi
Un Kangal Kannadi Anal
Kannin Munne Ennai Kana Koodatha
Agayam Thedi Nan Poga Matten
Veettodu Vennila Neethane
Mayil Thogaiyo En Kai Regaiyai
Serum Varai Sernthiruppen
Ival Oru Kadhal Azhaga Nee
Iru Vizhi Thayin Mozhiya Nee
Un Madiyil Nan Dhinamum
Oru Pullin Meedhu Paniyanen
Aruyir Unnai Maravene
Yaridam Ennai Tharuvene
Neeye Sol Neeye Sol
Oru Minmini Illa Iravanen
Vasam Adhu Vasam Veesuthadi
Vasam Adhu Vasam Veesuthadi
Vasam Veesum

Galatta Kalyanam Film's Kaadhalai Solla Mudiyaadha Music Video | Akshay Kumar | Dhanush
Let's check out newest music video for Kaadhalai Solla Mudiyaadha from a top-notch movie Galatta Kalyanam.
Watch Kaadhalai Solla Mudiyaadha Song Lyrics that Shashaa Tirupati, Yazin Nizar attractively hummed and are featured in the Galatta Kalyanam film of Dhanush, Akshay Kumar . Kabilan has jotted down the Kaadhalai Solla Mudiyaadha Tamil lyrics and Aanand L Rai orderedthe music video.