Kaali Gadi is a newly released Haryanvi anthem, and Manisha Sharma, Aman Sheoran performed it. RK Crew sorted-out its music, and Team Black directed music video. Aman Sheoran wrote-down the lyrics for Kaali Gadi track released on May 15, 2021.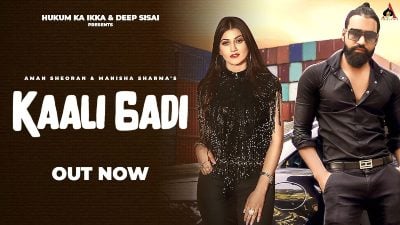 Aman Sheoran | Manisha Sharma | Kaali Gadi Full Song Lyrics
Ho Mar Gayi Mar Gayi Mein Teri Solid Body Pe,
Laga De Gede Teri Kali Gadi Mein,
Ho Sabte Nyari Yar Ne Tour Banayi Se,
Tere Khatir Gadi Nayi Kadayi Se,
Ankhyate Mare Chori Fair Dunani Ke,
Ek Tere Fan Yar Ek Shoki Gari Ke,
Ek Tere Fan Yar Ek Shonki Gaddi Ke,
Shoki Gaddi Ke,
Karu Su Mein Wait Tera Mod Pe Teri,
Late Na Tu Hoya Kar Garmi Badi,
Aana Nai Jab Mane Tu Bata Sake Se,
Phone Kyon Na Uthave Bat Pale Na Padi,
Yara Mein Baithe Phone Silent Pe Kare Rakhe,
Ek Tere Giftan Ne Thode Late Kara Rakhe,
Ho Top Speed Mein Gadi Bagha Rahe The Kake,
Hoge Chalan Police Ne Laye The Nake,
Khol De Serr Jhun Se Yeh Thedhe Jhakya Se,
Rajandi Kya Jhun Se Ake Lagya Se,
Ho Nicche Lea Dun Jhun Se Udre Se Parinde,
Gadi Mein Baby Pul Dhar Rakhi Binde,
Aman Sheoran Kare Bas Kare Tu Bat Badi,
Yah Le Kardi Puri Kardi Wish Teri,
Yah Le Kardi Puri Kardi Wish Teri,
Puri Kardi Wish Teri,
Puri Kardi Wish Teri,

Kaali Gadi Lyrics by Aman Sheoran, Manisha Sharma
is the Latest Haryanvi song sung by Manisha Sharma, Aman Sheoran, and the music of this brand new song is given by RK Crew. Kaali Gadi song lyrics are penned down by Aman Sheoran and the video is directed by Team Black.