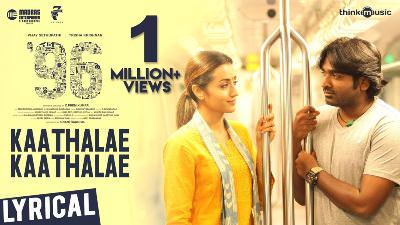 Kaathalae Kaathalae Lyrics – a beautifully composed song by Govind Vasantha from 96 Movie. The Chinmayi, Govind Vasantha voice-overed song stars Vijay Sethupathi with Trisha. Karthik Netha is writer of lyrics to Tamil song.
KAATHALAE KAATHALAE SONG LYRICS – 96 MOVIE
Konjum pooraname váa,
Neé konjum ezhisaiye,
Panjavarna boothám,
Nenjam niraiyudhe,
Kaanpathellam, kaathaladi,
Kaathalae kaathalae,
Thani pérunthunayae,
Koodávaa koodavaa,
Podhum podhum,
Kaathalae kaáthalae,
Vaazhvin neelam,
Pogáva pogava neé.
Song Credits / information:
Song Title:
Kaathalae Kaathalae (Tamil)
Album / Movie Title:
99 (2018)
Actor(s):
Vijay Sethupathi, Trisha
Artist(s):
Chinmayi, Govind Vasantha
Lyrics Writer(s):
Karthik Netha
Music Director:
Govind Vasantha
Label:
Crown Records
​