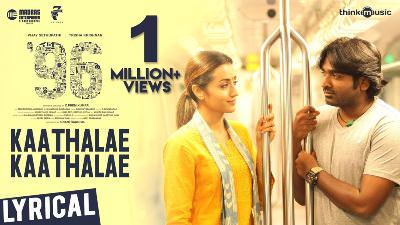 Kaathalae Kaathalae Lyrics – a beautifully composed song by Govind Vasantha from 96 Movie. The Chinmayi, Govind Vasantha voice-overed song stars Vijay Sethupathi with Trisha. Karthik Netha is writer of lyrics to Tamil song.
KAATHALAE KAATHALAE SONG LYRICS – 96 MOVIE
Konjum pooraname váa,
Neé konjum ezhisaiye,
Panjavarna boothám,
Nenjam niraiyudhe,
Kaanpathellam, kaathaladi,
Kaathalae kaathalae,
Thani pérunthunayae,
Koodávaa koodavaa,
Podhum podhum,
Kaathalae kaáthalae,
Vaazhvin neelam,
Pogáva pogava neé.
[su_button url="https://lyricsraag.com/kaathalae-kaathalae-meaning-96-tamil/" target="blank" background="#33bcf2″ color="#ffffff" size="7″ wide="yes" center="yes" radius="0″ text_shadow="0px 0px 0px #cde8cd" desc="Love this song? Catch its meaning."]
Song Credits / information:
Song Title:
Kaathalae Kaathalae (Tamil)
Album / Movie Title:
99 (2018)
Actor(s):
Vijay Sethupathi, Trisha
Artist(s):
Chinmayi, Govind Vasantha
Lyrics Writer(s):
Karthik Netha
Music Director:
Govind Vasantha
Label:
Crown Records
​
Find out more Tamil Songs like 'Kaathalae Kaathalae' from 96 (Film), Vijay Sethupathi.