Kadalalle Lyrics from "Dear Comrade" the original Telugu version track has been penned by Rehman & composed by Justin Prabhakaran. The singers who lent their vocals for track are Justin Prabhakaran, Aishwarya Ravichandran & Sid Sriram. Vijay Deverakonda & Rashmika featuring music video of "KADALALLE" track with music video & Telugu lyrics is published by Lahari Music on YouTube.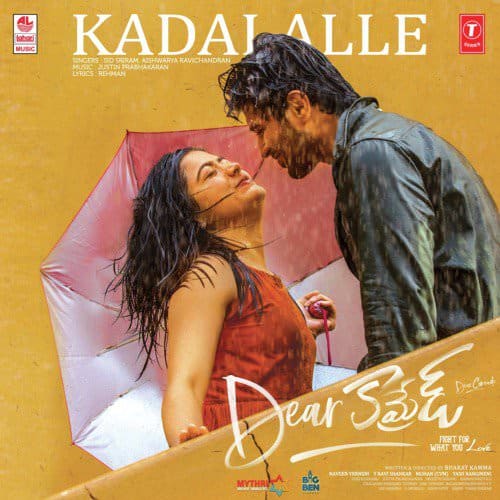 Name of Song: Kadalalle (From "Dear Comrade")
Singers: Justin Prabhakaran, Aishwarya Ravichandran, Sid Sriram
Lyricist: Rehman
Music Director: Justin Prabhakaran
Actors: Vijay Deverakonda, Rashmika
Label: Lahari Music | T-Series
KADALALLE TELUGU LYRICS (FROM "DEAR COMRADE")
Kadalálle Veche Kanuley,
Kadhilenu Nadhila Kalaley,
Kadalalle Veche Kanule,
Kádhilenu Nadhila Kalale,
Vodi Cheri Okatayi Pøye,
Vodi Cheri Okatayi Poye,
Theeram Korey Prayam.
Viraham Pongeley,
Hrudhayam Oogele,
Adharam Anchuley,
Mádhuram Koreley,
Antheleni Yedho Thaapam Yemitilaa,
Nuvve Leka Vedhisthunde Vesavilaa,
Chenthe Cheri Sedhatheera Praayamilaa,
Cheyychaachi Koruthundi Saayamilaa,
Kalalu Marina,
Nee Dhyasa Maruna,
Adigindhi Mohame,
Nee Thodu Ilaa Ilaa,
Viraham Pongele,
Hrudhayám Oogele,
Adharam Anchule,
Madhuram Kørele,
Kadalalle Veche Kanule,
Kadhilenu Nadhila Kalale,
Kadalalle Veche Kanule,
Kadhilenu Nadhila Kalale,
Ninne Ninne Kannulalo,
Dhaachaánule Lokamuga,
Nanne Nanne Malchaaney Neevuga,
Buggá Meedha Muddhey Pettey,
Chilipithanam,
Unnattundi Nanney Chuttey,
Paduchugunam,
Panchukunna Chinni Chinni,
Santhoshaálenno,
Nindipoye Undipoye,
Gundelothullø,
Neelona Cheragaa,
Naanunchi Verugaa,
Kadhilindhi Praaname
Neevaipu Ila Ilaaa..