"Kadalanu Kaana Horatiro" is a soul-stirring Kannada song that carries profound emotions within its verses. This song's lyrics, sung by the talented Srilakshmi Belmannu and included in the film "Sapta Saagaradaache Ello, Side A," are a poetic masterpiece that demand special attention.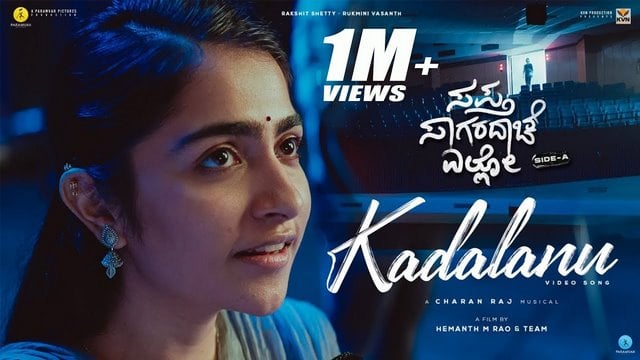 The lyrics of 'Kadalanu Kaana Horatiro' take you on a lyrical journey, inviting you to imagine a sea that might not be physically visible but exists within the depths of one's heart. The metaphor of the sea symbolizes hidden dreams, desires, and unexplored horizons. It's a beautiful reminder that there's more to life than meets the eye, and sometimes the most profound experiences are the ones that take place within our hearts and minds.
The song's title, "Kadalanu Kaana Horatiro," translates to "Even if you don't see the sea, it's over," echoing the central theme of the song. This message is beautifully conveyed through Srilakshmi Belmannu's emotive rendition and the enchanting composition by Charanraj M. R.
SAPTA SAAGARADAACHE ELLO – SIDE A KANNADA MOVIE · KADALANU KAANA HORATIRO SONG LYRICS ENGLISH MEANING
Kadalanu Kana Horatiro Karago Karago Mugile
Even if you don't see the sea, it's over.
Kiranavu Mugila Kelide Nanu Jotege Barale
Kiran asked, I will come along.
Allondide Doni Teladuta Ekantavagiga Mareyaguta
There is a boat floating, lonely now hidden.
Nave Kanda Kanasu Anale Adake Ninna Hesara Idale
It is the dream that we have seen, that is what you should name.

Sapta Saagaradaache Ello – Side A Film's Kadalanu Kaana Horatiro Music Video | Rakshit Shetty | Rukmini Vasanth
Hemanth M. Rao's direction ensures that the song's visual representation aligns seamlessly with its profound lyrics, making it an integral part of the movie's storytelling.
In essence, "Kadalanu Kaana Horatiro" is not just a song; it's a poetic reflection on the power of dreams and the importance of looking beyond the surface. It's a song that encourages introspection and invites you to explore the depths of your own desires. The lyrics are a work of art, and Srilakshmi Belmannu's rendition breathes life into this poetic masterpiece
Kadalanu Kaana Horatiro Song Details
Title of Song
Kadalanu Kaana Horatiro
Movie
Sapta Saagaradaache Ello – Side A
Backing Vocalist
Srilakshmi Belmannu
Lyrics Writer
Nagarjun Sharma
Music Maker
Charanraj M R
Lead
Rakshit Shetty, Rukmini Vasanth