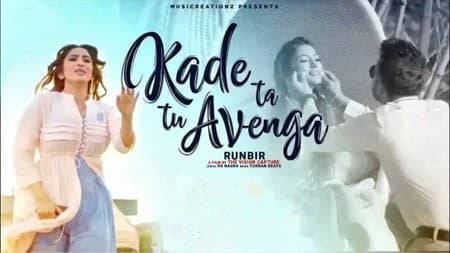 Kade Ta Tu Avenga Lyrics (with translation in English) is most beautiful romantic-sad Punjabi song (also spelled as Kade ta tu avega) trending on Youtube India currently. Runbir is name of vocalist and he performed in music video also featuring Vaibhavi Joshi. The amazing lyric to "KADE TU AVEGA or AVENGA" are a writing of HS Nagra with suitable music production of Turban Beats. Gurwinder Dalam & Karan Bajwa are directors of new Punjabi music video released from MUSICREATIONZ.
KADE TA TU AVENGA FULL SONG LYRICS TRANSLATION
Kade ta tu avega ve osay hi chaurahe te
Jede si chaurahe te gaya sanu shad ke
Someday you would return to the same place where you left me the last
Jandi vari pitth vi ghuma ke pishe takkeya na
Khade rahe laake aasan, akhiyan nu add ke,
While going away, you didn't even turn back to see me once,
I stood there with opened eyes hoping for you to come back.
Akhon ohlay hoya si, ja veehi wale mod ton,
When you disappeared from the turn over the road,
Jind jaan sohneya tu lai gaya si kadd ke,
You also took my life away with you.
Kaday tan tu awainga vay osay hi chaurahay tay,
Jehday si chaurahay tay gaya sannu chhad kay,
You would return to the same place, where you abandoned me,
Jaandi wari pith vi ghumaake pichay takya na
Khaday rahay laake asaan akhiyan nu add kay,
At the moment of leaving me, you didn't even bother to have a look back at me,
While I was hoping for it standing over there with my eyes wide open.
Injh tan koi khed ke khidauneya nu suttda na
Jiwein mainu sutt gaya zindagi cho tu kadd ke
Nobody even trashes their toys after playing with them like you have taken my out of your life,
Ehde naalo changa iko wari maar denda mainu
Kyon karda halaal pota-pota injh vadd ke,
Better you would kill me once shot instead of killing me slowly (being away from me)
Hun vi tu Nagreya janda na bhulaya metho
Tu ta mere rach gaya wich rag-rag de,
Oh Nagra I still can't forget you, you are part of my blood now.
Kade ta tu avenga ve ose hi chaurahe te,
Jede si chaurahe te gaya sanu shad ke,
Jandi vari pith vi ghuma ke pishe takeya na
Khade rahe laake aasan akhiyan nu add ke.
(Injh taan kyoi khed ke khidaoneya nu sutda na
Jiwein mainu sutt gaya zindagi 'cho tu kadd ke
Ehde nalo changa iko vaari maar denda mainu
Kyun karda halaal potta-potta injh vadd ke.)