KADHALAADA LYRICS from VIVEGAM:  It's a song from Ajith Kumar & Kajal's latest Tamil movie, sung by Anirudh Ravichander with others. Kabilan Vairamuthu is writer of "Kadhalaada" track's verses.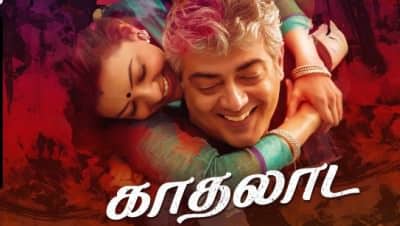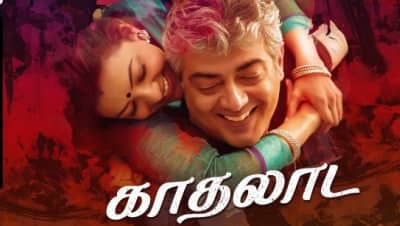 The brand new Tamil song Kadhalaada with its most beautiful lyrics is hummed by Shashaa Tirupati, Pradeep Kumar & Anirudh Ravichander. The music video features Ajith Kumar with Kajal Aggarwal, directed by Siva.
VIVEGAM'S KADHALAADA TAMIL LYRIC – ANIRUDH | AJITH KUMAR
Únnodu Vazhvadhu Aanandhamey
Ovvoru Pøzhudhilum Perinbamey
Thèeradha Thevaigal Aanandhamey, Aanandhame
Ilĺaigal Ingillai Perinbamey.
Kadhalaada Kadhalaada Kaathirundheney
Aasai Noølil Paasa Pookkal Korthirundheney
Seyyaadha Maadhavam Neeye
Poyyaadha Peraruĺ Neeye
Oyaadha Thenmazhai
Adhai Yendhavè
Pudhu Bhoomi Servome.
Unnodu Vazhvadhu Aanandhamey
Ovvoru Pøzhudhilum Perinbamey
Theeradha Thevaigal Aanandhamey, Aanandhame
Illaigaĺ Ingillai Perinbamey.
Neela Vaanam Maayndhapothum
Nee Iruppaye
Dhevagaánam Thooya Mounam
Nèe Koduppaye.
Pollaadha Porgalil
Un Vèrvaiyaaga Poothirupenèy
Nillaadha Odaiyaai
Un Kai Pidithu Odugindreney.
Aalagáala Nanju Paaindadhu
Mella Meezhvomey
Piĺlai Deivam Mannil Thondrida
Vaazhvu Neezhvomey.
Uńnodu Vaazhvathu Aánandhamè -x2,
Unnodu Unnødu Vazhvadhu
Unńodu Vaazhvathu Aanandháme.