Kafila is a truly inspiring and motivational rap song that showcases the talent of Poet Shaf, who is the song's singer, lyricist, and actor. Two talented and well-known music producers and composers in the Indian rap scene, Karan Kanchan and Bhavv, are responsible for writing and producing the song. The song has been released under the music label @tseries, which promotes and supports Indian rap music.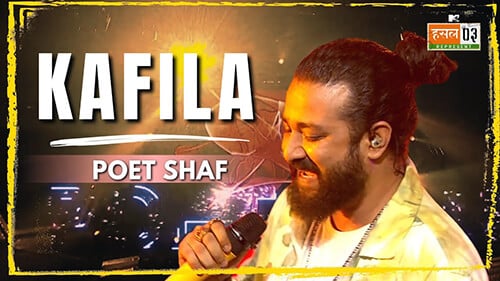 The Kafila song lyrics are a powerful message to anyone facing challenges and difficulties in life. The words encourage and empower everyone to hustle until they find their Kafila, group, or companions. The song also uses the phrase Ekla Chalo, which means to walk alone, to suggest that one should never give up on their dreams and strive to achieve them with determination and courage. The lyrics are inspiring, catchy, and memorable, using rhymes, metaphors, and references to create a genuinely impactful rap.
The song has been featured on MTV Hustle 03, a reality show that provides a platform for aspiring rappers from different parts of India to showcase their talent and compete for the title of India's best rapper. The MTV Hustle 03 Team, which is in charge of directing the show, offers the contestants guidance and criticism.
KAFILA SONG LYRICS
Le Ke Nikla Poora Kafila Phir,
Shuru Hua Aisa Silsila Phir,
Puche Log Aisa Kiya Kaise,
Main Ruka Nahi Jhuka Nahi Kabhi X2
9 Se 5 Wala Kam Nahi,
Zindagi Mein Chahiye Thoda Bhi Aram Nahi,
Kal Bhul Jao Waisa Chahiye Nam Nahi,
Rasta Hain Jo Pasand Toh Milega Mukam Wahi,
Ha,
Chale Sath Mere Karwan,
Duniya Puchti Kyu Rakhta Hun Fasla,
Jo Lage Tumhe Kathin Sa Rasta
Uss Raste Pe Ghar Mera Aur Bana Dali Dastan,
Kise Se Maine Kuch Manga Na,
Pehle Khud Ko Pehchana Tha,
Sare Apne Mujhe Rok Rahe The,
Par Maine Man👨 Mein Thana Tha,
Ki Jo Karna Hain Bro,
Kar Ke Rahunga Woh,
Teri Nazar Mein Main Nalayak,
To Nalayak Hain Ye Tal Bro,
Le Ke Nikla Poora Kafila Phir,
Shuru Hua Aisa Silsila Phir,
Punche Log Aisa Kiya Kaise,
Main Ruka Nahi Jhuka Nahi Kabhi X2
Gadiyon Se Pehle Chalna Seekha,
Badle Trends Log Par Main Na Badlu Saleeqa,
Iss Jawab Pe Jalti Hain Sabki,
Ab Puchta Main Tujhe Khush Karne Ke Liye Badlu Saleeqa,
Phir Khisiyake Ye Awaz De ,
Main Jo Paltu Toh Dekhe Na Meri Aakh Mein,
Dheeme Se Bolte Sehme Alfaz Se,
Ch Od De Ye Kam Par Dogli Na Meri Zat Hain,
Itna Bekar Dekhu Akad Ke Maut Hoti Jab Pass💯 Mein,
Kala Ko Roz Hum Tarashte,
Bimari Bhi Rok Nahi Sakti,
Poora Gana Record🎬 Kiya Maine Khanste Khanste,
Seene Mein Aag Hain,
Khud Ko Jala Denge,
Hum Hain Deewane Aise,
Sameette Hain Lafzon Ko Jag Ke Jag Ke,
Sab Hain Kehte Ki Bro,
Socho Woh Jo Aam Ho,
Main Kehta Nikal Us Taraf Woh Bhi Rasta Napte Napte,
Le Ke Nikla Poora Kafila Phir,
Shuru Hua Aisa Silsila Phir,
Punche Log Aisa Kiya Kaise,
Main Ruka Nahi Jhuka Nahi Kabhi X2

KAFILA MUSIC VIDEO
The song Kafila is a masterpiece that combines lyrics, music, and visuals to create an unforgettable experience. The lyrics are inspiring, motivational, and catchy, while the music is upbeat, dynamic, and groovy. The stunning, colorful, and authentic visuals make the song a must-listen for anyone who loves rap music or motivational songs.
KAFILA SONG DETAILS
Track Name
Kafila
Singer(s)
Poet Shaf
Lyrics Writer(s)
Poet Shaf
Composer(s)
Karan Kanchan, Bhavv