Kalangathey Lyrics from the Tamil movie 'Anbarivu' featuring Kashmira Pardeshi, Hiphop Tamizha Aadhi is a good song, and it has overwhelming musicals by Bamba Bakya. The fetching lyrics of the Kalangathey record are summed up by Hiphop Tamizha. Hiphop Tamizha is the entertainer of KALANGATHEY's amusing music. The par excellent music video of the canto is headed by Aswin Raam.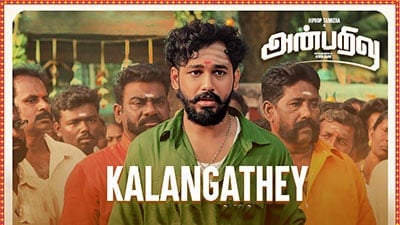 Hiphop Tamizha

Music Producer
ANBARIVU TAMIL MOVIE · KALANGATHEY FULL SONG LYRICS
Kalangathe Mayangathe
Unmai Illa Nanmai Ondru Uraithene Unakkaga
Nanbikkai Than Vazhkai Nambu
Sila Pirivugal Pala Mudivugal
Uravukkulle Kadhavugal
Sila Kadidhangal Pala Kavidhaigal
Theeyil Vizhuntha Siragugal
Oru Kuzhanthaiyai Nee En Kannukkul Kanna
Oru Kozhaiyai Un Munnale Nindrene Nan
Kalangathe Mayangathe
Unmai Illa Nanmai Ondru Uraithene Unakkaga
Nanbikkai Than Vazhkai Nambu
Areero Aru Latcham Vannakkili
Alamaram Vizhuthula Koodu Katti
Mazhai Adichalum Puyal Adichalum
Ellam Sernthe Onna Vazhum
Adhu Pola Nanum En Kooda Neeyum
Onna Sernthe Vazha Venum
Onna Sernthe Vazha Venum

Anbarivu Film's Kalangathey Music Video | Kashmira Pardeshi | Hiphop Tamizha Aadhi
Make sure to check new music video for Kalangathey from a par excellent movie Anbarivu.
Kalangathey (From "Anbarivu") Full Song
Watch Kalangathey Song Lyrics that Bamba Bakya excellently voiced and are featured in the Anbarivu film of Hiphop Tamizha Aadhi, Kashmira Pardeshi . Hiphop Tamizha has noted down the Kalangathey Tamil lyrics and Aswin Raam targetedthe music video.