Kalla Sohna Nai Song with Lyrics is another romantic track from Akhil. Sanjeeda Sheikh is the model featured in this latest Punjabi song. Babbu is the lyricist who has written the song-lines for 'Kala Sona Nahi Lyrics,' while Mix Singh is the director who produced the suitable music for it.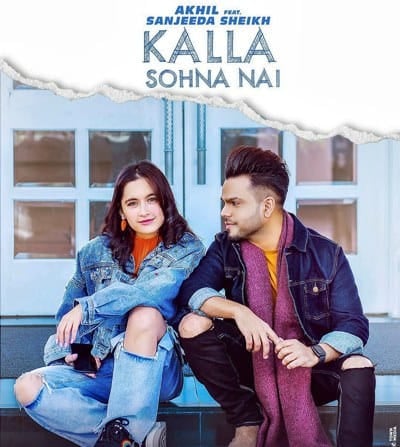 Jo Jo Tu Keh Dina Ae,
Hor Koi Keh Sakda Nai,
Tu Jidaan Pange Lainae,
Hor Koi Lai Sakda Nai,
Tainu Shad Vi Sakdi Aan,
Rakheya Kar Mera Darr Ve,
Tu Kalla Hi Sohna Nahi,
Zyada Na Baneya Kar Ve,
Tu Kalla Hi Sona Nai,
Zyada Na Baneya Kar Ve.
Thodi Der Ch Karda Haan,
Har Phone Te Kehna Ae,
Ki Pardhaan-Mantri Aein,
Jina Busy Tu Rehna Ae, Busy Tu Rehna Ae,
Mainu Mitha Baut Pasand Ae,
Kade Cake Le'aya Kar,
Kade Hath Tu Fadeya Kar,
Kade Pair Dabaya Kar,
Tere Phone Ch Mere Naam,
Agge Ik Dil Vi Bhar Ve.
Tu Kala Hi Sona Nahi,
Zyada Naa Baneya Kar Ve (X3).
Chahe Pyaar Naal Beshak,
Mere Vaal Naa Patteya Kar,
Gal Puri Suneya Kar,
Wichon Naa Katteya Kar,
Vichon Naa Katteya Kar,
Ohna Nu Hi Chauna Ae Tu,
Main Teri Chat'an Kaddiyan Ne,
Sab Nu Unfollow Kar,
Jo Tethon Umar Ch Vaddiyan Ne,
Babbu Tu Banda Ban,
Tere Bina Vi Jana Sar Ve,
Tu Kallaa Hi Sona Nai,
Zeyada Naa Baneya Kar Ve (X3).
Kalla Sohna Nai featuring Sanjeeda Sheikh is a love melody voiced by the artist 'Akhil.' Desi Music Factory (YouTube) has published the track. Mix Singh is the music producer and Babbu is a writer for Punjabi lyrics.