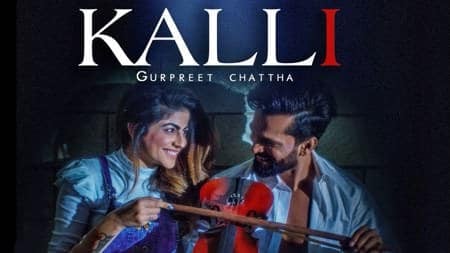 KALLI LYRICS (AKA Kalli Reh Gayi Aa song) – A new Punjabi sad tune with immensely good vocals of Gurpreet Chattha and equally wonderful music direction of Beat Boi Deep is allover satisfying song. Lvy Anshu is writer of heart-broken lyrics to "KALLI" with music video featuring artists, released from T-series and go created by Team Last Page.
KALLI FULL SONG LYRICS – GURPREET CHATTHA
Tere hoya vi ni janda
Tainu khoya vi ni janda,
Dukh daseya ni janda, te lakoya vi ni janda,
Khaab laini aa main,
Dukh sehni aa bathere,
Loki hasde mere te, metho roya vi ni janda.
Mera jo haal channa tainu ki dassan
Koi puchda ae raah main tera naa' dassan.
Buhe khol ke beh gayi aan,
Main reh gayi aan, main reh gayi aan,
Channa kalli reh gayi aan,
Main seh gayi aan, main seh gayi aan,
Akhan meech ke seh gayi aan.
Main kachiyan kaliyan labdi aa
Titli banan ton vi darrdi aa,
Bhaida jag thoppay gham mere te,
Tere khaab lain ton vi dardi aa,
Mere dil di dil hi jaan da,
Tere naa' de deevay baalda,
Haneriyan naa' larhdi reh gayi aa,
Mai reh gayi aa, mai reh gayi aa,
Chana kalli reh gayi aa,
Mai reh gayi aa, mai reh gayi aa,
Akhaan meech ke seh gayi aa.
Eh kismat de khed ne, khedne hi paine ne,
Utton kasoor mera main kudi haan,
Taane ta sun'ne hi paine ne,
Meri peerh di channa tainu saar nai,
Taqdeer di aesi mainu maar payi,
Hanjuan de harh ch beh gayi aa,
Main qafan gham'an da chak laina
Tere naa' di mehndi laa laini,
See suhagan banan da cha mera,
Tere naal oh reejh puga laini,
Tere naa' main khud nu kar jana,
Lvy shadna hath main mar jana,
Mai siweyan cho uth ke beh gayi aa.
Main reh gyi aan, main reh gyi aan,
Channa kalli reh gyi aan,
Main seh gyi aan, main seh gyi aan,
Akkhan meech ke seh gyi aan.