"Kalloorum Poove lyrics" with translation is a mesmerizing Tamil song that enchants the senses with its ethereal beauty. Sung by the talented Madhu Sree and Sarath Santhosh, this composition from the movie "Pichaikkaran 2," by the renowned Vijay Antony, takes listeners on a poetic journey of love and desire. The lyrics, penned by Arun Bharathi, vividly paint a picture of a hidden paradise and a passionate connection between two souls.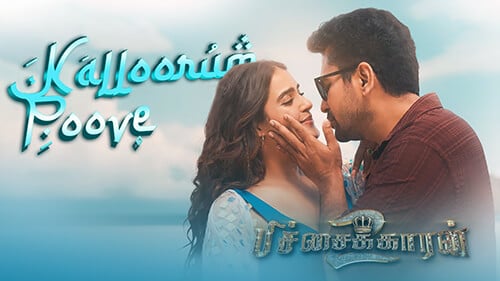 This song captures the essence of romance and longing with verses that beautifully express the narrator's emotions. The lyrics delve into the yearning for the beloved, the intoxication of their presence, and the indescribable sensations that ignite the heart. The words evoke a sense of curiosity and desire, painting a vivid picture of a captivating seductress and the spell she casts on the protagonist.
PICHAIKKARAN 2 TAMIL MOVIE · KALLOORUM POOVE SONG LYRICS ENGLISH MEANING
Kalloorum Poove Kalloorum Poove
Oh, intoxicating flower!
Mundhanai Theevil Siridhai Idam Kodu
Open the gates to your hidden paradise!
Solloorum Nave Solloorum Nave
Oh, my poet! Oh, my dear poet!
Mundhanai Theevil Medhuvai Nuzhaindhidu
Gently exploring wonders of this paradise.
Kal Konda Peyoo Nee Kaman Silaiyo
Is she a wandering spirit, or a captivating seductress?
Nee Vandha Neram En Kattil Mazhaiyoo Ho
Your presence in my life brings rain that quenches my thirst.
Kalloorum Poove Kalloorum Poove
Oh, enticing blossom!
Mundhanai Theevil Siridhai Idam Kodu
Open the doors to your secret paradise!
Unnai Parthu Soodanavan, Un Perai Kettu Moodanavan
Mere glimpse of you, my hormones ignites like fire. Mere whisper of your name, My heart flutters like a flame!
Adai Pooril Thorpan Ivan Unnal Ini Sethan Ivana
I gladly lose the cupid's game! His life ebbs away under your fatal spell!
Thevai Ellam Theerpan Ivan
You'll cater to the desire that my heart yearns.
Ennai Thookkum Ther Than Ivan
He is the chariot that carries me with ease.
En Kannale Kaidhanavan
My gaze held him prisoner!
Sethan Ivan Sethan Ivan
His life ebbs away under my fatal spell.
Ennulle Vedhalam Yekangal Yeralam
My inner beast with fervor roars, a thousand desires it fiercely pours.
Asaigal Theerattum Vetkam Thoolai Pogatum
Let our thirst be finally slaked, as inhibitions shatter and fade!
Kalloorum Poove Kalloorum Poove
Oh, intoxicating flower!
Mundhanai Theevil Siridhai Idam Kodu
Open the gates to your hidden paradise!

Pichaikkaran 2 Film's Kalloorum Poove Music Video | Vijay Antony | Shivangi Verma
Reading the translation of the lyrics is a must to appreciate the depth and beauty of the song entirely. It allows listeners who may not understand the Tamil language to delve into the profound emotions and poetic imagery presented in the original composition. The translation enables a deeper connection to the song, allowing individuals to immerse themselves in the magic of the hidden paradise and understand the intricate nuances of love, desire, and surrender that the lyrics convey.
Kalloorum Poove Song Details
Track
Kalloorum Poove
Movie
Pichaikkaran 2
Backing Vocalist
Sarath Santhosh, Madhu Sree
Lyrics
Arun Bharathi
Music Maker
Vijay Antony
Lead
Shivangi Verma, Vijay Antony