Find out translation of 'Kamaal Hai Song Lyrics' by 'Badshah' with 'Uchana Amit.' The romantic track 'KAMAAL' with its awesome lyrics has just released from Saga Music with their collabartion with YRF.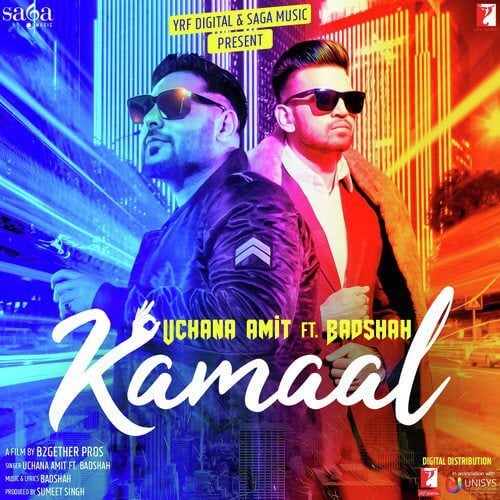 | | |
| --- | --- |
| Song Name: | Kamaal (Hindi) |
| Singer(s): | Badshah, Uchana Amit |
| Lyrics Writer(s): | Badshah |
| Composer(s): | Badshah |
| Video Director(s): | B2gether Pros |
| Music Publisher: | Saga Music |
BADSHAH | KAMAAL SONG LYRICS ENGLISH MEANING
Kamaal Hai! Kamaal Hai! Kamaal Hai!
It is Amazing!
Uchana!
Lagti Hai Badi Pyari Pyari,
Mat Meri Tune Maari Maari,
You look lovely. You are making me lose my mind,
Ho! Ho!
Jabse Hai Maine Dekha Tujhe,
Dil Kare Dil De De Tujhe,
From the moment I've seen you, I want to lose my heart to you.
Ho! Ho!
Teri Akhiyan, Teri Sakhiyan,
Your eyes! Your girlfriends!
Jehdi Goggle Paake Rakhiyan,
The ones wearing goggles,
Tera Koka, Teri Baali,
Your nose ring! Your earring!
Tera Hasna, Teri Gaali, Kamaal Hai
Your laugh and your swearing all are amazing.
Kamaal Hai! Kamaal Hai!
It's Amazing.
Tere Aage Peeche Kaate Jo Chakkar,
Who follow you round and round,
Hum Woh Bache Nahi Hain,
We are not like those kids,
Jaanu Hum Aashiq Hain Sache,
Honey, we are true lovers,
Par Sache Nahi Hai,
But we are not truthful.
Tere Do Kaudi Ke Ex Ke Jaise,
Baaton Ke Kache Nahi Hain,
Unlike your good for nothing ex, we don't just do loose talks.
Par Zindagi Hi Naam Tere Hum Karde,
Itne Bhi Ache Nahi Hain,
But to give away our life for you, We are not that great either.
Paisa Waisa Sab Okay Okay Hai,
Par Dil Bada Grand Hai,
The money and stuff are just ok, but the heart is grand.
Gucci-Vucci Gaye Udhaar Laine,
Launda Khud Ek Brand Hai,
I don't care much about Gucci and others. The boy is a brand in himself.
Tune Bhi Shehar Hai Sir Pe Uthaya,
Rab Ne Chhuttiyan Leke Baby Tujhko Banaya,
The entire city is head over heels on you. Baby, God may have taken leaves to concentrate on creating you.
Kaise Bataun Tujhse Door Kaise Reh Raha Hoon,
How do I tell you how I'm living without you?
Balki Main To Keh Raha Hoon Ke,
In fact what I'm saying that;
Teri Mummy, Tere Papa,
Your mom, your dad,
Tera Bhaiya, Tera Chacha,
Your brother, your uncle,
Tera Dada, Teri Naani,
Your grandfather, your maternal grandmother,
Teri Jamuna Nagar Wali Maami,
Your maternal aunt from Jamuna Nagar,
Kamaal Hai, Kamaal Hai,
They are all incredible.
Kamaal Hai! Kamaal Hai!
It's incredible.
Chalti Hai Jab Haule Haule,
Dil Sabka Dole, Dole,
When you walk real slow, Every heart skips a beat.
Ho! Ho!
Teri Beauty Kill Kare Kare,
Dil Tujhse Na Bhare Bhare,
Your beauty kills and kills. The heart can't get enough of you.
Ho! Ho!
Tera Aana, Tera Jaana,
Tera Surse Baahar Gaana,
Your coming, your going, your singing out of tune,
Teri Hello, Teri Hi,
Your hello, your hi,
Teri Coffee, Teri Chai,
Your coffee, your tea,
Teri Denim, Teri Kurti,
Your denim, your top,
Teri Dance Floor Pe Furti,
Your energy on the dance floor,
Teri Baatein, Teri Jhalki,
Your talks, your looks,
Tu Head To Toe Poori Ladki,
From head to toe, you're a complete girl.
Kamaal Hai, Kamaal Hai, Kamaal Hai,
Isn't that all fanstastic?
Kamaal Hai! Kamaal Hai!
It's all fantastic.