Read the Kanaa Tamil Song Lyrics of Sublahshini, 2jaym with their precise translation in the English language. NUCLEYA came-up with the Kanaa Tamil track's music-production, and Sublahshini, 2jaym drafted the Tamil lyrics for it.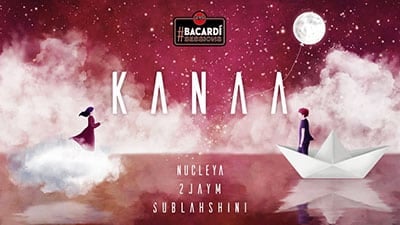 Kanaa Tamil SONG LYRICS ENGLISH MEANING • 2jaym • Sublahshini
I thought I wouldn't find you,
Lot of people around but
Nobody made me feel
Like I'm worth it
I've been wasting my time,
going round looking for signs
but I just want to be heard
and feel loved
Maybe we just need some time to
Figure out our feelings while we're
here right now,
I don't have no doubts
I haven't felt this way. all my life
It feels so right
Kadhal Kankattuma
Kanadha Mayaigalai Katuma
Kalam Poiyaguma
Nee Solladha Varthaigal Meiyaguma
Love does it blind us or does it open our eyes to the magic we have never seen.
Will time become an illusion and the words you have never the truth.
Katrin Thol Sayuma
Osai Isayena Urumaruma
Kanparka Pazhi Theeruma
Vizhithum Kalayadha Kanavaguma
Will it (love) lean on the wind's shoulders?
Will noise transform itself into music?
Will I wash my sins as my eyes meet yours?
Will it become a dream that doesn't leave me even after I have woken up?
Kadhal Malarum Nerame
Kalin Adiyil Megame
This is the time when love blossoms.
This is the time when I have touched the clouds with my feet.
You helped me find my purpose,
I don't even know how I can reimburse you
I just wanna be there for you all the time
Even though I don't get to call you mine
Kanavai Kanden Kanmoodi
Kanavai Vendren Un Kaikoodi
Karmegathil Vanavil Thondrume
I dreamt a dream with my eyes closed and with your hands on mine, those dreams came true.
I see a rainbow in the grey skies.
Kanaa Tamil Music Video | 2jaym | Sublahshini
Airphish shot the music video for "KANA" and it was released on April 7, 2021.
Learn the meaning of 'KANAA SONG' that '2jaym, Sublahshini' performed and '2jaym, Sublahshini' penciled-down.
Kanaa, which means "dream," is a love song. The plot centers around a man who is looking for someone to make him feel worthy, to make him feel heard, and how he eventually finds them. Despite the difficulties, this person has filled a void in his life and assisted him in discovering his purpose. We all have that one person who gets us going and convinces us that we can accomplish anything in the world. And for those of us who haven't found that special someone yet, here's hoping this song acts as a lucky charm and attracts them to you so you can get up and do what moves you.