"Kaniyan Da Saaz," with the translation of its pleasant-sounding lyrics in English, is a melodic masterpiece that effortlessly weaves together the threads of love and nature, creating a tapestry of emotions that resonate with the heart. Simran Choudhary, both the singer and the creative force behind the song, brings forth an enchanting and soul-stirring musical experience.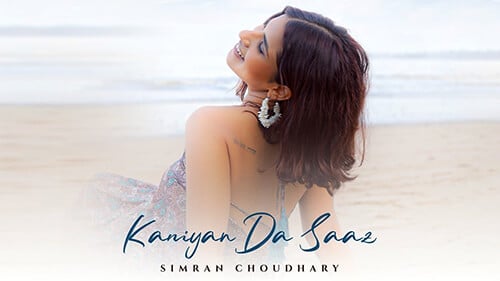 "Kaniyan Da Saaz" lyrics are like a poetic journey through the symphony of nature's elements. The verses beautifully capture the essence of rain showers, waves, and blossoms, painting a vivid picture of a world where love and nature harmoniously entwine. Simran Choudhary, the talented lyricist, weaves words that evoke emotions and imagery, inviting listeners to immerse themselves in the song's enchanting narrative.
Garvit Soni's composition is a perfect companion to the lyrics, breathing life into the verses and melodies. The music dances and flows like a breeze through trees, carrying the listener on a captivating journey. The musical landscape transports you to a realm where love and nature coexist in perfect harmony.
KANIYAN DA SAAZ SONG LYRICS ENGLISH MEANING
Kaniyan De Saz Vich, Lehran Di Awaz Vich
In the relaxing sound of showers, and in the beautiful sound of waves,
Kise Mainu Choya Ae Badlan De Mizaj Vich
Someone has touched me in the form of clouds.
Phullan Wale Bagh Vich, Sham De Verag Vich
In the flower garden, during evening devotion,
Kise Mainu Mohya Ae Mere Apne Rag Vich
Someone has fascinated me with his melodies.
Rukhan Di Hawa Aakhe Sohneya, Tere Mere Rah Ikko Hone Aa
The air blowing through the trees tells me that our paths are meant to cross.
Apa Ik Dooje Layi Hone Aa
We must be supposed to be lovers.
Chal Chaliye Sajna Ki Jithe Hon Ambran Nal Gallan
Let's go somewhere where we can talk to the sky, darling.
Leke Rang Main Phullan Ton Tere Gallan Utte Mallan
I'd take the color from the blossoms and put it on your cheeks.
Kikkran Di Chhaan Vich Sanghni Oh Than Vich
There is a shade under the Kikar tree.
Koi Aake Vasseya Ae Dil De Makan Vich
Someone has begun to reside in my heart.
Patran De Cha Vich Ambran De Sah Vich
With glee, from the heavens.
Koi Aake Hasseya Ae Suran De Nikah Vich
Amid a wedding, someone has grinned.
Chann Di Raza Aakhe Sohneya, Tere Mera Rah Ikko Hone Aa
Even the moon wishes for us to be together.
Apa Ik Dooje Layi Hone Aa
We must be supposed to be lovers.

Kaniyan Da Saaz Punjabi Music Video | Simran Choudhary
Director Simran Choudhary's vision comes alive in the music video, featuring Sidharth Banerjee and Simran Choudhary's dynamic performances. The visuals seamlessly blend with the song's themes, creating a visual and auditory experience that is both captivating and immersive.
"Kaniyan Da Saaz" is a song that tugs at the heartstrings, capturing the essence of love's connection with the world around us. Translating the lyrics into English enhances the song's depth, allowing a broader audience to appreciate its beauty and meaning.
Kaniyan Da Saaz Song Details
Title of Song
Kaniyan Da Saaz
Performer
Simran Choudhary
Lyricist
Simran Choudhary
Music Producer
Garvit Soni