Translation for lyrics of 'Kannazhagu Rathiname Song' featuring Dhanush from his latest movie 'Asuran'.Vetrimaaran is director, GV Prakash composes the track hummed by Dhanush himeself, with impeccable songwriting of Yugabharathi. Get to know meaning of this track's verses.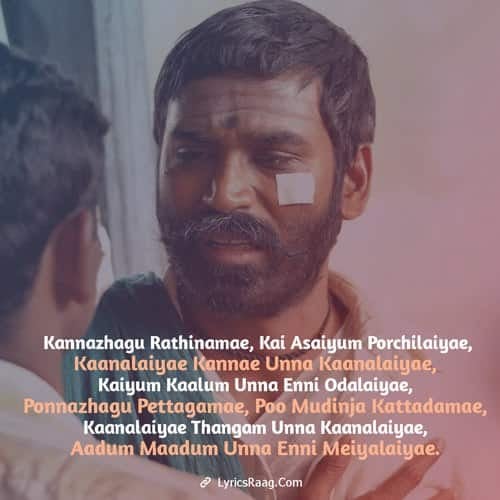 Song Details
Title of Song:
Kannazhagu Rathiname
Movie Title:
Asuran (2019 film)
Vocalist(s):
Dhanush
Star Cast:
Dhanush, Manju Warrier
Songwriter(s):
Yugabharathi
Music Director(s):
G.V. Prakash Kumar
Film Director(s):
Vetrimaaran
Music Company:
V Creations
ASURAN | KANNAZHAGU RATHINAME LYRICS ENGLISH MEANING
Kannazhagu Rathiname,
Kai Asaiyum Porchilaiye,
Kaanalaiye Kanne Unna Kaanalaiye,
Kaiyum Kaalum Unna Enni Odalaiye,
My precious, pearl-eyed prettiness! My marvelous masterpiece!
Where have gone, sweetheart? Where have you gone?
Forlorn in your absence; I can't seem to move my limbs.
Ponnazhagu Pettagame,
Poo Mudinja Kattadame
Kaanalaiye Thangam Unna Kaanalaiye,
Aadum Maadum Unna Enni Meiyalaiye,
My beautiful, beloved boon! My home adorned with bloom!
Where are you, my dear? Where are you?
Forlorn in your absence; Our cattle refuse to graze.

MORE SONGS FROM 'ASURAN' FILM
Kannazhagu Rathiname is a sad track filming Dhanush from his most recent Tamil movie 'Asuran'. He also has lent his voice for this praiseworthy song, as well as he acted in it. Yugabharathi is writer of Tamil stanza and G.V. Prakash Kumar is director for music.
Vetrimaaran is director of music video for 'Kannazhagu Rathiname' and here you may read the meaning of full song lines with their explanation in English language. The movie was released on 4 October 2019 while the music album was released in Aug 2019.