Kanne Kanne is a romantic Telugu song from Arjun Suravaram movie and here its translation of its official lyrics in English. The proficients vocals in playback are Anurag Kulkarni & Chinnmayi, while the stars featured in the music video for 'KANNE KANNE LYRICS' are Lavanya Tripathi & Nikhil Siddharth. Srimani is the writer of the lyrics, and Sam C S is the composer of lovable music. Below, you may find out the meaning of the song words.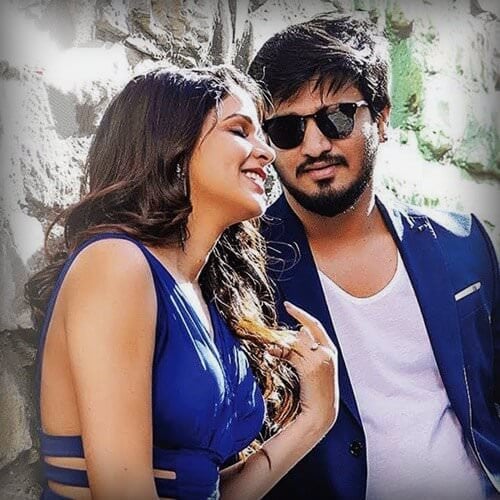 | | |
| --- | --- |
| Song Name: | Kanne Kanne (Telugu) |
| Album: | Arjun Suravaram (2019) |
| Singer(s): | Anurag Kulkarni, Chinnmayi |
| Lyrics Writer(s): | Srimani |
| Music Director(s): | Sam C S |
| Video Director(s): | T.Santhosh |
| Actor(s): | Nikhil Siddharth, Lavanya Tripathi |
| Record Label: | Lahari Music | T-Series |
ARJUN SURAVARAM | KANNE KANNE LYRICS | ENGLISH MEANING
Na Manasila Manasila, O Manase Korukunde,
Nee Manusuke Manusuke, Aa Varase Chepamande,
My heart has been craving for a loving heart.
It wants me to share these ways of the heart with you.
Emo Ila Chepeyadam, Aa Teepi Mate Neetho,
Emo Illa Dhateyadam, Ee Thaguve Thaka Dhimithom,
How can I bare what's on the mind and say those sweet nothings?
How can I tide over this friction within?
Edo Teliyanade, Inallu Chudanade,
Nede Telisinade, Munupenudu Lenadi Modalavthonde,
Something unfamiliar unseen, only today.
I have known this feeling, as new horizons beckon new beginnings to invite.
Edo Jariginade, Baruvedo Periginade,
Mounam Viriginade, Pedava Vippe Velaidhe,
Something melts within, Yet something feels heavy.
Silence breaks and signals it is time to spell it out.
Kanne Kanne Reppe Veste Nee Kalaloke Nadichane,
Ninne Ninne Chustu Chustu Nanne Nenne Marichane,
The moment I blink, I dream of you.
Looking at you, I forget the whole world.
Tiyaga Tiyatiyaga Nee Talapulu Panchavela,
Dachutu Yemarchutu, Ninnu Nuvva Dachutav Endukala,
Why won't you share what is on mind?
Why would you hide, pretend and shy away from confessing?
O Chinuku Kiranam, Kalagalipe Merupe, Hariville,
Samayam Vasthe, Aa Rangulu Neeke Kanapadule,
The raindrop and a light beam converge to make a rainbow,
when the time comes, the colours will present their beauty.
Mellaga Melamellaga, Manaa Darulu Kalisenuga,
Hayilo Ee Hayilo, Akasanne Dhatesaga,
Slowly, bit by bit our paths became one;
this delightful feeling made me traverse the skies.
Innalla Na Ontarithaname, Cherigenu Nee Vallene,
Chupulatho Kaka Pedavulatho, Cheppeyi Ee Matalane,
My solitude senses, it's ending is coming.
May be let your lips do the talking and not the furtive gazes.
Kanne Kanne Reppe Vesthe, Nee Kalaloki Nadichale,
Ninne Ninne Choosthu Choosthu, Nanne Nene Marichane,