Get the translation of 'Kannu Thangom' from Tamil movie 'Vaanam Kottattum' sung by Shakthisree Gopalan, Sid Sriram. Find out the meaning of Kannu Thango Or Thangam track lyrics in English.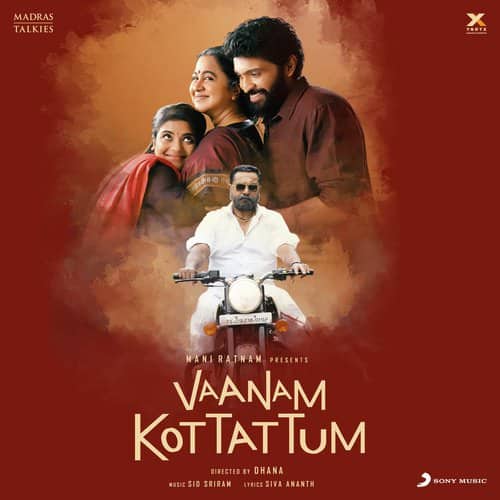 | | |
| --- | --- |
| Song Name: | Kannu Thangom (Tamil) |
| Album: | Vaanam Kottattum (2020) |
| Singer(s): | Sid Sriram |
| Lyrics Writer(s): | Siva Ananth |
| Music Director(s): | Sid Sriram |
| Video Director(s): | Dhana Sekaran |
| Actor(s): | Vikram Prabhu, Aishwarya Rajesh, Madonna Sebastian |
| Record Label: | (P) 2020 Sony Music Entertainment India Pvt. Ltd. |
VAANAM KOTTATTUM | KANNU THANGOM SONG LYRICS ENGLISH MEANING
Kannu Thangom Rasathi, Unnai Kandale,
Nenju Muchoodum Theevali,
Sonna Nambu Mavarasi, Un Per Sollatti,
Mazhai Oorukku Peyathadi,
Darling. Love. Princess,
just the sight of you makes my heart burn with desire.
Trust me on this 'O', my dear,
if your name isn't mentioned, monsoons go dry.
Azhagi Un Punnaga, Ara Dozen Pournami,
Asaiya Pesudi, Manasula Margazhi,
Your beauty is nothing less than a gleam of the full moon.
Speak to me with love 'O' dear.
My heart fills with music.
Rani Kali Yesamani, Parvai Parthale,
Maman Ullara Poomari,
Lesa Morachale, Moochu Thadumari,
Nadi Narambellam Mukkaduthe,
My dear Queen, Kali and guardian angel,
just your glance fills my heart with warmth.
A speck of anger in your eyes sends shivers down my spine.
Onakkum Mela Oorula, Enakkunnu Yaradi,
Adichu Nan Solluven, Unakku Nan Kalani,
Rasathi Rasathi, Rasathi Rasathi Rasathi,
Mavarasi Mavarasi,
I've no one but you in my life
I swear, I am your slave.
Princess! Princess! Princess!
'O' my dear 'O' my dear.
Rasa Singam En Sami, Yaru Sonnalum,
Enakku Neethane Saripadhi,
Vaya Pavi Kathirukken, Pona Povattum,
Ennai Kai Korthu Karai Seraiya,
'O' dear, my love and my guardian angel,
no matter what anyone says, you're my better half.
Love, I've been waiting for your return.
Don't mind anymore, take me along ashore.
Thaniyila Nadakkaiyil, Enakku Nee Thonaiyiru,
Madiyila Manasula, Orangida Edangodu,
When I'm lonely, you're my shoulder to lean on.
Give me some space in your heart and lap to rest for a while.
Kannu Thangom Rasathi.
Darling. Love. Princess.