Get translation to 'Karuppu Vellai Song Lyrics' from Vikram Vedha movie, by Shivam & Sam C.S. Find out Vikram Vedha film's song Karuppu Vellai lyrics meaning in English.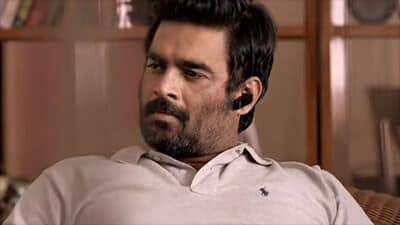 | | |
| --- | --- |
| Song Name: | Karuppu Vellai (Tamil) |
| Album/Movie: | Vikram Vedha (2017) |
| Singer(s): | Shivam, Sam C.S. |
| Lyrics Writer(s): | Vignesh ShivN |
| Music Director(s): | Sam C. S. |
| Music Video Features: | Madhavan, Shraddha Srinath |
VIKRAM VEDHA SONGS | KARUPPU VELLAI FULL LYRICS | ENGLISH MEANING
Vazhka Odi Odi, Alanji Thirinji, Odanji Murunji,
Arambicha Edatha Thedi, Vandhu Nikkum Da,
Ellam Mudinja Pinne, Eriya Pora Podhaiya Pora,
Sorgam Naragam Poradhukku, Satchi Illada,
Life is a race rambling and roaming ruptured and fractured.
And you end up in the same spot you started from.
In the end, we will just be buried or burnt!
There's no proof of anybody going to heaven or hell!
Indha Nodi Irukka, Vazhndhirukkom,
Neram Nalla Irundha, Polachirukkom,
Edhuvum Inga Sariyum Illa, Thavarum Illa Poda,
Just live as the moment exists,
If the moment is favourable, thrive on it!
There's nothing good or bad here. Just life. Let go!
Ragana Nagana Na, Ragana Nagana Na,
Ragana Nagana Na, Ragana Nagana Na,
Kolaiyum Veeranum Onnu, Veeramana Kolaiyum Onnu,
Dharmamum Dhrogamum Onnu Onnu,
Dharmam Kakka Dhrogam Seivadhundu,
The Coward and the brave are one.
Brave cowards do exist!
The righteous and the vicious are the same. Just the same!
To uphold righteousness, vicious things have been done!
Yarayumm Nambatha,
Inge Nambunna Maratha, Pagai Theera,
Porkalam Pogatha, Ponnal Neeyum Poridu, Edhaiyum Yosikkadha,
Don't believe in anybody. Anybody here and now!
If you believe, then don't doubt! Until the end of time.
Don't go to war. Come may whatever, fight till the end.
Ragana Nagana Na, Ragana Nagana Na.

KARUPPU VELLAI MUSIC VIDEO