'Kasam Se' is not just a song; it's a heartfelt promise, an outpouring of love that transcends boundaries. This Hindi melody is a soulful dedication to a loved one from the talented Armaan Malik. The lyrics, written by Kunaal Vermaa and Amaal Mallik, are a testament to the intensity of emotion that love can elicit.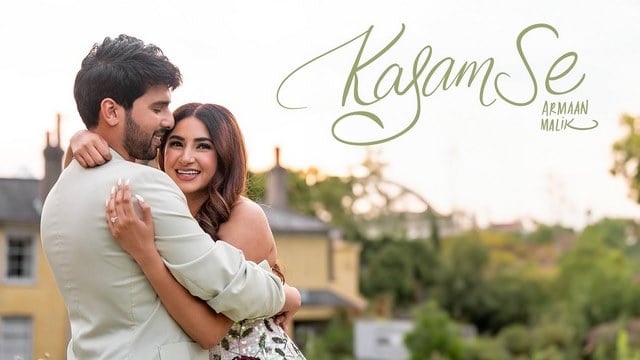 In 'Kasam Se,' the singer expresses a profound love that knows no bounds. It's not just ordinary love; it's a love that shatters all boundaries and defies explanation. The promise to be there, hand in hand, through thick and thin, is beautifully articulated in this song. It's a celebration of finding one's soulmate—that person who becomes yours forever.
The translation of 'Kasam Se' lets you dive deep into the singer's emotions. It's an opportunity to understand the lyrical richness of the song, the promise of unwavering love, and the profound connection between two individuals.
ARMAAN MALIK · KASAM SE SONG LYRICS ENGLISH MEANING
Kasam Se Tujhse Jo Pyar Hua, Dil Hadd Se Par Hua
My heart has broken all boundaries since I fell in love with you.
Kya Jaane Yaar Hua, Kasam Se!
I'm not sure what occurred, love, I promise!
Hoon Main Ruka Hua Teri Hi Galiyon Mein
My thoughts are still on your streets.
Sadkon Pe Raston Pe Ab Intezaar Hua
I'm waiting for you on the streets, on your walks.
Rahoon Hosh Mein Ya Behosh Hoon
Whether I'm aware of it or not,
Tujhe Soch Ke Muskurata Rahoon
I keep smiling when I think about you.
Kahe Jo Mujhe Mazakon Mein Tu
What you jest about with me…
Woh Baatein Main Sach Maan Loon
…is true to me.
Kasam Se! Kasam Se!
I swear it! I swear!
Kasam Se Tera Hoon Sabse Kahun
I swear I tell everyone that I'm yours.
Kasam Se! Kasam Se!
I swear it! I swear!
Kasam Se Bin Tere Ab Na Jiyun Kasam Se
I swear I can't live without you now.
Kasam Se!
I swear it!
Kasam Se Tu Jabse Yaad Hua Sab Tere Baad Hua, Yeh Apne Aap Hua
I swear since I met you, everything else has occurred afterwards; it all happened on its own.
Kasam Se Yeh Bhi Kamaal Hua,
It is also a miracle, I swear.
Dhoondha Jise Maine Khwaabon Khayalon Mein Woh Mera Aaj Hua
I swear who I was looking for in my thoughts, dreams is now my present.
Jo Ho Baat Yeh Mere Haath Mein Toh Main Har Janam Mein Tujhe Maang Loon
If it were up to me, I'd beg for you in every life I had.
Jahaan Se Kabhi Chala Jaaun Main Samajhna Tere Saath Hoon
If I leave this world, you must believe that I am still with you.
Kasam Se Kasam Se Kasam Se Tera Tha Tera Rahoon
I promise that I was and will always be yours.
Kasam Se Kasam Se Kasam Se Bin Tere Ab Na Jiyun Kasam Se
I promise I can't go on without you.
Kasam Se
I swear it!

Kasam Se Hindi Music Video | Armaan Malik
This song is not just about love; it's about commitment, about standing by someone through all of life's ups and downs. It's a musical journey that celebrates the essence of true love. Whether you're familiar with Hindi or not, the translation captures the heart and soul of 'Kasam Se.'
Take a moment to explore the translation of 'Kasam Se. It's a reminder that love knows no boundaries. When you find that special someone, you hold onto them "Kasam Se"—with an unwavering promise.
SONGS FOR YOU
Dono Title Track — Armaan Malik
वही तो खुदा है — Armaan Malik, Mithoon
Nallareni Kalladana [from "Dharmapuri"] — Armaan Malik
Kasam Se Song Details
Track
Kasam Se
Performing Artist
Armaan Malik
Writer of Poetry
Kunaal Vermaa
Music Maker
Amaal Mallik