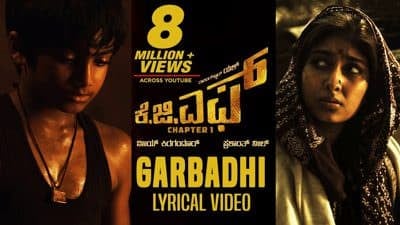 Lyrics to 'Garbadhi' from 'KGF' Kannda film translation in English language.
Name of Song: Garbadhi
Album / Movie Name: KGF Chapter 1 (Kannada)
Music Composer: Ravi Basrur
Singers: Ananya Bhat
Lyrics Writers: Kinnal Raj, Ravi Basrur
KGF's GARBADHI KANNADA SONG LYRICS MEANING
Garbhadi Nannirisi Oorali Nadeyutire
In the womb, as you contain me
In the town, as you walk…
Therali Kulitante Amma
Seems like you are majestically sitting in a chariot. Oh! Mother!
Gumma Bantenisi Hedari Nintaaga
When I felt a ghost nearing me, and was transfixed with fright,
Ninna Serage Kaavalu Amma
It was your saree veil that guards me. Oh! Mother!
Kaanada Devararige Kaiyya Naa Mugiye
To the unseen God, I refuse to pay obeisance with folded hands.
Ninage Nannusire Aarati
To you, my life's breath itself is the ritual of worship!
Thandaani Naane Thanithandaano
Taane Naane No (x2),
Nere Banda Oorali,
Sere Sikka Mookara,
The neigbourhood is captive.
Kanda Kanase Kanna Hangiside,
Nettaru Haridaru,
Eyes were tired while dreaming.
Nemmadi Kaanada,
Bhayava Neeguva Kai Bekaagide,
There is no need to make sense out of it.
Kaanada Devaranu,
Ninnali Kandiruve,
The God who does not see you has seen you.
Neene Bharavaseyu Naalege,
You brought me tomorrow.
Thandaani Naane Thanithandaano
Taane Naane No (x2).