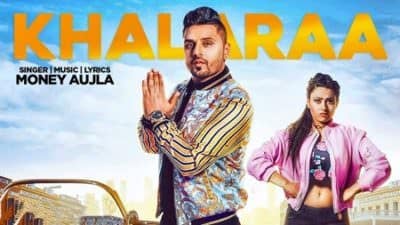 Khalaraa Lyrics – This Bhangra Punjabi song has been performed, written and produced by Money Aujla featuring Miss Neelam. The Town Media has directed Punjabi music film released from T-Series Apna Punjab.
KHALARAA SONG LYRICS FT. MISS NEELAM | MONEY AUJLA
Khushi wala din ajj bhangra tu paun de,
Ni roki na mainu ajj peg pooray laun de,
Jinay jo vi kehna ohnu kahi jana de,
Ni jatt rakhda na dil wich saarha,
Fer kehnde jatt maada painda jadon khalara.
Hass-tapp jina marji tu mere sajjna,
Ve soneya tu mera dildar ve,
Rokne nu mera keda dil channa karda ae,
Kardi aa pyar teri naar ve,
Darrdi aan ese gallon peeke thodi vadh
Ve tu dine dikhaunae taare,
Ve tu koi maada ni,
Tere shonk ne pattua maade,
Ve tu koyi mada ni.
Bai dj waleya tu laame chakve record oye
Hun rukan da naam na lavi ho ja tu start oye
Meri sohniye tu vi naal nach mere
Choorhe walite tu vi naal nach mere
Ainve pati to kadayi da I haarha,
Fer kehnde jatt maada, painda jadon khalaraa.
Kehnde nakhre de bin jachdi na sohni teevi
Taiyon nakhre main channa kardi
Par kadd di aa haarhe hun hor na tu pivi
Tere fikran ch jaave jind khardi.
Ikk gall dassan ve tu lagda cute
Jadon set ho ke maare lalkaare,
Ve tu koi maada nai
Tere shonk ne pattuva maade.
Laike rumaal ajj been vi bajauni aa
Dekhi aujle na ajj kaato phullan te chadauni aa
Par dekhi mere naal koi zid na pave
Maitho ho na jave kise da hai jhaada,
Fer kehnde jatt maada
Ho painda jadon khalara.
Nach-nach dharti hila du jatta main vi
Jina chir money booliyan tu payenga
Kho ke rumaal been main waja du
Das naag ban je tu vikhayenga,
Hassda hi sohna tu ta lagge dildaara
Ainve chaad ke ni rakhi de ve paare,
Ve tu koi maada nai
Tere shonk ne pattuya maade
Fer kehnde jatt maada
Painda jadon khalaraa.