Hostel Life is the most recent Haryanvi number, and Khasa Aala Chahar sung it. Bamboo Beats directed its music, and White Hill Dhaakad directed music video. Khasa Aala Chahar jotted-down the lyrics for Hostel Life track released on May 24, 2021.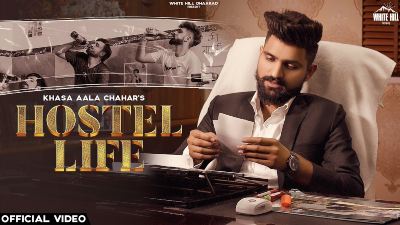 Khasa Aala Chahar | Hostel Life Full Song Lyrics
Bamboo Beats
Ek Hostel Nam Ka Pinjra Tha,
Jitt Panshi Sare Azad The,
Woh Beskeemti Daur Tha,
Yaran Ne Le Sawad The,
Jab Gateman Mhare Adi The Re,
Pake Yar Jugadi The,
Aur Game Koi Khelya Na,
Bottleke Yar Khiladi The,
Roomke Kundi Lake Ne,
Patiala Peg Banake Ne,
Pher Jump Marke Doli Pe Re,
Lage Race Takake Ne,
Je Muna Bolya Circuit Te,
Apun Ko Bapu Dikhta Hain,
Oye Tane Kehya To Final Se,
Bhain Dikhta Hain To Dikhat Hain,
Han Dikhta Hain Bhain Dikhta Hain,
Han Tum Bhi Bolo Dikhta Hain,
Dikhta Hain Bhain Dikhta Hain,
Han Sare Bolo Dikhta Hain,
Je Bat Samajh Mein Ayi Na,
Main Ashi Jyun Samjha Deunga,
Ya Legend Life Ki Kahani,
Saste Mein Kyun Kar Ga Deunga,
Oye Khan Peen Ka Daku Tha,
Ek Chashme Ala Padhaku Tha,
Par Ek Bat To Comon Thi,
Sala Sara Gang Ladaku Tha,
Ek Landi Yamaha Yaran Ki,
Colegeke Gehde Lave Thi,
Ohne Dekh Dekh Sab Shocking The,
Yaranke Nehde Ave Thi,
Ek Dekhi Surat Pyari Thi,
Yaran Ki Adi Garari Thi,
Uske Chakaran Mein Shet Diya,
Re Jiske Gelyan Yari Thi,
Hostel Ala Ne Bahar Karea,
Pher Nakli Bapu Tyar Karya,
Yaram Ne Mafi Mil Gi Thi,
Emotion Atyachar Karea,
3 Idiot Ali Situation,
Yaranke Bhitar Ban Ri Thi,
Virus To Nyare Pade Tha,
Yari Fevicol Te Jud Ri Thi,
Sab Sanjha Sauda Yaran Ka,
Na Kise Cheez Mein Fark Karea,
Jo Bol Diya Woh Hona Tha,
Na Pher Dobara Tark Karea,
Tere Kewal Man Ka Veham Se Oye,
Na Din Yeh Lautke Avein Se,
Chal Shod Tu Khasa Aale Oye,
Tu Kyun Jee Ne Tarsave Se,
Fursatke Mein Aiyo Re,
Wa Mehfil Pher Sajani Se,
Yanepan Mein Jo Jud Gi Thi,
Wa Yari Vi Nibhani Se,
Re Legend Kathe Hovenge,
Jo Tatkalin Kirdar The,
Tu Aj Suni Se Kahani Jo,
Ve Mere Jigri Yar The,
Hostel Life Lyrics by Khasa Aala Chahar
is the Latest Haryanvi song sung by Khasa Aala Chahar, and the music of this brand new song is given by Bamboo Beats. Hostel Life song lyrics are penned down by Khasa Aala Chahar and the video is directed by White Hill Dhaakad.