Khiladi Title Song Lyrics from the Telugu movie 'Khiladi' featuring Meenakshi Chaudhary, Ravi Teja is a refined song, and it has breathtaking singing by Ram Miriyala. The spunky lyrics of the Khiladi Title Song number are documented by Shree Mani. Devi Sri Prasad is the inventor of KHILADI TITLE SONG's exemplary music. The ethical music video of the limerick is directed by Ramesh Varma.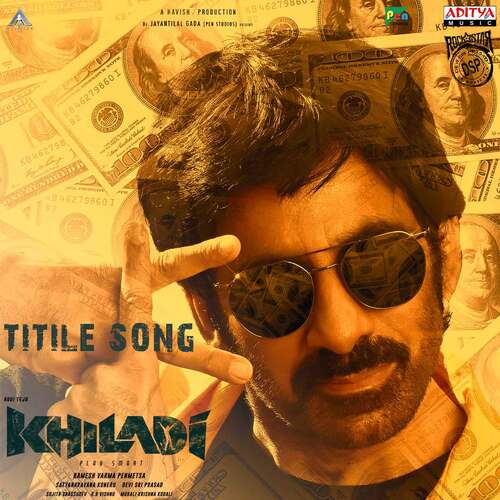 KHILADI TELUGU MOVIE · KHILADI TITLE SONG FULL SONG LYRICS
He's A Grand Master, He's A Crime Poster,
Veedu Yeduraye Timingu Danger Tho Dating,
You've Got To Run Faster,
He's A Spell Caster, Money Monster,
Veeditho Neeku Meeting, Hello Thoti Greeting,
Life Ye Roller Coaster,
Smell Chusi Note Name Cheppagaladu Sala,
Weight Chusi Katta Lona Lekka Cheppevala,
Roberiki Pathashala Money Heist Ke Ivala,
Kotha Height Choopina Havala,
Kill Kill Kill Kill Kill Khiladi,
Kill Kill Kill Kill Kill Khiladi,
Lokam Yadunna Liquid Money, Tracker La Lage Vala,
Locker Lo Dagunna Secrets Anni Hacker La Patte Vala,
Pokker Lo Kinganti Nee Fate Ni Joker La Marchevala,
Guri Chusi Currency Carroms Ni Striker La Kottevala,
Body Motham Brain Dochesina Ekaika Human Veede,
Heart Kosam Ichina Spot Ni Kuda Sketchltho Nimpesade,
Kill Kill Kill Kill Kill Khiladi,
Kill Kill Kill Kill Kill Khiladi,
Account Bookullo Tally Kani Lekkalake Balance-ru,
Finance Subject Lo Patta Unna Sarikottha Freelancer-u,
Country Ke Appundi Kotlallona Manakunte Thappentani,
Salahalu Isthune Sarvam Doche Arudaina Advisor-u,
Sontha Body Nanti Untondhani Needalake Rent Yesthade,
Centimetre Sentiment Ye Leni Self-made Selfish Veede,
Kill Kill Kill Kill Kill Khiladi,
Kill Kill Kill Kill Kill Khiladi.

Khiladi Film's Khiladi Title Song Music Video | Meenakshi Chaudhary | Ravi Teja
Make sure to check different music video for Khiladi Title Song from a ethical movie Khiladi.
Watch Khiladi Title Song Song Lyrics that Ram Miriyala elegantly performed and are featured in the Khiladi film of Ravi Teja, Meenakshi Chaudhary . Shree Mani has introduced the Khiladi Title Song Telugu lyrics and Ramesh Varma counseledthe music video.