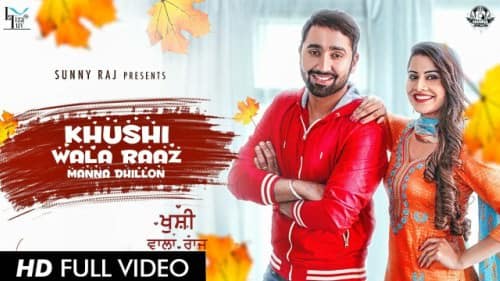 Khushi Wala Raj lyrics are performed by Manna Dhillon with Prabh Grewal as a model in the music video shot by True Makers. Beat Minister is composer, Bhinda Bawakhel is songwriter of "KHUSHI WAAL RAJ" latest song.
KHUSHI WALA RAJ FULL SONG LYRICS MANNA DHILLON
Tu Te Ghuri V Na Kade Sanu Vati Ve
Kuti Sachi Muchi Chanaa Bari Lucky Ve
Tu Man Ya Na Man Paven Sajna
Tenu Sare Asi Haq Dene Aa
Sadi Khushi Wala Raaz Je Koi Puchdae
Asi Tera Nam Dass Dene Aa
Sohni Hundi Javan Tere Pyaar Karke
Me Tere Pyar Karke
Sovan Roj Raati Tera Nam Parke
Me Tera Nam Parke
Asi Dhillon Likhiya E Gori Banh Te
Ve Uto Chunni Nal Taq Lene Aa.
Bussy Hoven Paven Sada Phone Chakde
Ve Tu Phone Chukde
Kithe Hune Ki Kam Sach Dsda
Ve Tu Sach Dsda
Sanu Poora Aitbar Jattaa Tere Te
Ve Asi Poora Tera Pakh Lene Aan.
Baala Hi Tu Sir Te Chraya Hoyeya Kuri Nu
Charaya Hoyeya Kuri Nu
Kamli Jhi Bhindiya Bnaya Hoyeya Kuri Nu
Banaya Hoyeya Kuri Nu
Bawakhel Waleya Tu Rave Hsda
Ve Duaavan Lakh Lakh Dene Aa.
Sadi Khushi Wala Raaz Je Koi Puchdae
Ve Asi Tera Naam Das Dene Aan.