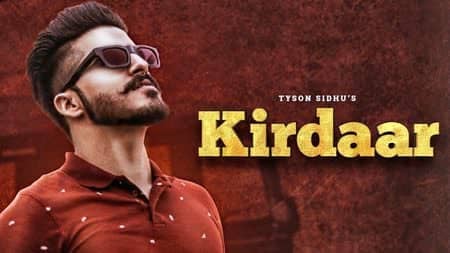 Kirdaar Lyrics with impressive vocal performance of Tyson Sidhu and the well-sorted music beats of Sir Manny is a latest song in writing of Mehak Sidhu. Bunty Bains is producer of song "KIRDAR" and the music video is created by Diljot Garcha, Brand B released it.
KIRDAR SONG LYRICS TYSON SIDHU
Chittay kurte pajamay jama saaf kam ne
Naam taan jeyone mitna je cham ne,
Balleya zameer na vikau rakheya
Chak layi boli je tera veham houga,
Taawe-taawe bandeyan na sadi ban di
Sochi kirdar kina kaim houga
(meaning: with very unique or rare people only I get along, so you can have figure of my character. How reserved nature person I am.)
Jind jaan diyan bas laaiye baajiyan
Ajj tak jede ne kamaye rutbe,
Agle de dase hoye thakaane ponchiye
Kalla kehra janda ni shikar buchde,
Boli rokhi bhawein aa beshak maan ni
Ghat jealous dilan ch vadh rehm houga.
Taawein-taawein bandeya naa' sadi ban' di
Sochin qirdar kinna qaim houga.
Rab poojiye dhe'aiye painde, behnde, uthde,
Ona satkar dilon maa-baap da,
Bas dohan ton asheervad jinu ho jawe
Fer ohdi hawa wal kaun jhaakda.
Khadiye ohna te jo ne gallan aakhiyan
Kade na ohna ton jatt sad houga.
Taanwe-taanwe bandeyan na sadi ban di
Sochi kirdaar kina kaim houga.
Khauf paaeya nai kade vi billlo vaadhu rohb da
Bade tode hankaar sadi sardari ne,
Bad habit'an lawaundiyan ne pitth bande di,
Kam fateh karwaye sadi khatti yaari ne,
Mehak asool vi tan hon gaddwe
Fer jaake kite kal time auga,
Taawein-taawein bandeya naa' saadi ban' di
Sochin qirdaar kinna kaim houga.
Tyson Sidhu, Sir Manny!