Lyrics to 'Koi Aaye Na Rabba Song' a Punjabi track released recently with voice of 'B Praak' from 'Daaka' film of Gippy Grewal. Check, Zindagi Kabhi Koi Aaye Na Rabba Punjabi song new lyrics in writing of Kumaar. Rochak Kohli is music composer & T-series releases the track.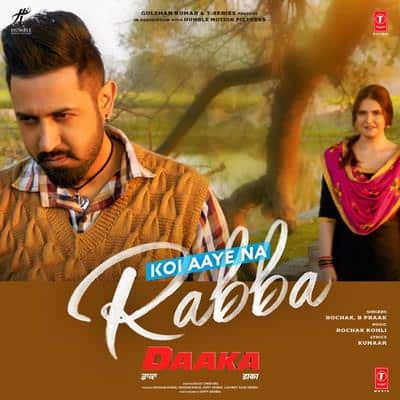 | | |
| --- | --- |
| Song Name: | Koi Aaye Na Rabba (Punjabi) |
| Movie Name: | Daaka (2019) |
| Singer(s): | B Praak |
| Lyrics Writer(s): | Kumaar |
| Music Director(s): | Rochak Kohli |
| Star Cast: | Gippy Grewal, Zareen Khan |
| Record Label: | T-Series |
ZINDAGI KABHI KOI AAYE NA RABBA SONG | PUNJABI LYRICS
Ik Tara Kismat Da,
Dubeya Kinare Te,
Ikk Taara Kismat Da,
Dubeya Kinaare Te,
Kha-makha Hi Jeyoonde Rahe,
Os'de Sahare Te,
Jede Ik Din Tut Jane,
Murh Ke Na Jud Paane,
Supne Oh Koyi Sajaaye Na Rabba,
Zindagi 'ch Kade Koyi Aye Na Rabba,
Aye Je Kade Tan Fer Jaaye Na Rabba,
Dene Asi Je Mainu Baad 'ch Hanjoo,
Te Pehlan Koyi Hasaye Na Rabba,
Zindagi Ch Kade Koyi Aaye Na Rabba.
O Mere Dil De Tukde,
Seenay Vich Bikhre,
Ik Naam Tera Hi Laindey Reh Gaye,
Mere Dil De Tukdey,
Seenay Vich Bikhrey,
Ek Naam Tera Hi Lainde Reh Gaye,
Oh Tu Ek Vi Suni Na,
Tainu Taras Na Aaya,
Asi Dard Judayi Sende Reh Gaye,
Ho Jeena Bada Mushqil Howe,
Din Raat Dil Rove,
Aena Vi Koi Sataye Na Rabba,
Zindagi 'ch Kade Koyi Aaye Na Rabba,
Aaye Je Kade Taan Pher Jaye Na Rabba,
Dene Assi Je Mainu Bad 'ch Hanju,
Te Pehla Koyi Hasaaye Naa Rabba,
Zindagi 'ch Kadey Koi Aaye Na Rabba.
Rabba! Mere Rabba!
Above is 'Zindagi Mein Koi Aaye Na Rabba' Punjabi song with lyrics & music video.