Koo Koo is the newest Hindi song, and King, Jaz, Asap hummed it. Devmusic arranged its music, and Yash Chhabra directed music video. Asap, Jaz, King wrote-down the lyrics for Koo Koo track released on May 23, 2021.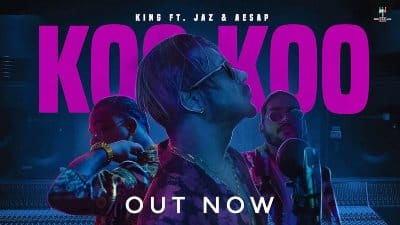 Asap | Jaz | King | Koo Koo Full Song Lyrics
I Say Woo Hawa Ane Do,
Ratein Huyi Rangeen,
Haule Jhoome Meri Soul,
I Say Woo Huye Paune 2,
Mausam Badla Tab,
Jab Sooraj Dhal Ke,
Tare Kare Glow,
I Know,
Baby Tujhe Chahiye Mera Sath,
Aur Gehdi Lage Woh Bhi Slow Slow,
No No No,
Loki Rehne Do,
Nazrein Churao Na,
Aankhon Ko Kehne Do,
Kehne Ko Bohat Kush Lagun Tich,
Bande Sick Mare Hit Baby,
Photo Bhi Khichwa Rahi,
Ja Rahi Sath Click Click,
Mare Shows Shape Note,
Number One On The Board,
Koyi Ghamand Nahin Pala,
Bhale Kam Top Notch,
Yari Rakhi On The Top,
Party Baje Nonstop,
Champagne Pop It Up,
Haseen Huyi Chali Ratein,
To Phir Unmein Kaisa Khauf,
Hum Lootein Poori Mauj,
Beasar Thi Kharoch,
Yeh Jungle Hain Cheete,
Shikar Ka Bhi Shauk,
Karo Bounce Bounce Bounce,
Mere Sath Mein,
Main Jeetun Dil Jab,
Kalam Pakdun Hath Mein,
Aaj Dark Skin Munda Kare Glow,
Hai Seena Chauda,
Zindagi Mein Jiyein Shan Se,
Na Na Na Na,
Kabhi Nazarein Jhukaun Na,
Bas Yehi Hain Usool,
Hai Unko Bhi Pyar Jo Gaye Mujhe Bhool,
Bhund Marate Yeh Peeshe,
Aage Bante Hain Cool,
Loki Karde An Galan Apa Karde An Rule,
Oh My God,
Bade Checks Badi Soch,
Munde Roz Le Rahe Mauj,
Poora Josh Nahin Hosh,
High Class Mere Flows,
Jine Bhi The Tez Mere Age,
Aaj Sare Huye Slow Slow Slow,
Oh No,
Jahan Pair Dhare Shor Bande Am Nahin,
Ekke Bad Ek Hit Halka Kam Nahin,
Nahi Main Feel Main Hoon,
Karo Pareshan Nahin,
Hit Hoon Main Pehle Se,
Bas Abhi Mera Nan Nahin,
Karan Main Fly High,
Par Pair Rakhan Thale,
Duniya Di Feel Laine,
Raja Baitha Kale,
Jo Waqt Palte Jani,
Sher Ka Woh Baccha Na To,
Munh To Hain Mufat,
Kush To Bolenge Hi Dale,
Aafat Macha Di Maine,
Zamane Se Poosh Lo Aur,
Peeshe Koyi Hath Mere,
Aisi Koyi Bat Nahin Hain,
Akele Nikla Tha Main,
Ghar Se Ek Sapna Leke,
Aaj Koyi Aisa Nahin,
Jo Khada Mere Sath Nahin Hain,
Kings Clan Flow
Shawty Get Low
Industry Khichan Mere Latte Kehndi,
Aidan Na Karo No No No,
Raja Jane Do,
Yeh Ladke Hain Humare,
Inhein Gana Gane Do,
Aye Kar Diya Bounce,
Lo Bhar Diya Maine Account,
Lo A Rahi Phir Se Album Ek,
Aur Kar Do Sab Mein Anounce,
Jaise Asman Zameen Ka Mile Shor Nahin,
Waise Yar Ka Tere Bhi Koyi Tod Nahin,
Koo Koo Lyrics by Asap, Jaz, King
is the Latest Hindi song sung by King, Jaz, Asap, and the music of this brand new song is given by Devmusic. Koo Koo song lyrics are penned down by King, Jaz, Asap and the video is directed by Yash Chhabra.