Koode Thullu is a multi-lingual rap song in Tamil and Malayalam sung by the talented rappers Fejo and Jeffin Jestin. Fejo and Jeffin Jestin wrote the track's catchy and uplifting lyrics, expressing courage and joy. Fejo and Jeffin Jestin, who also wrote the song, gave it a funky and upbeat tune. Nirmal Gylson, who directed the music video, showed the rappers performing the song with a lot of energy on stage and their fans dancing and grooving to it.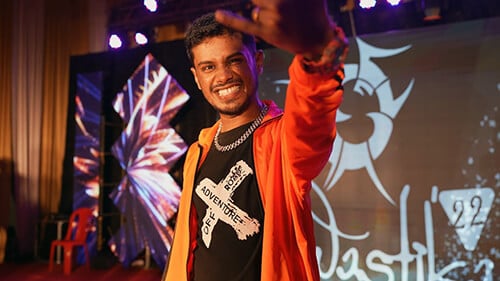 The lyrics to 'Koode Thullu' are full of fun and meaning, describing the feelings of a person leaving their sorrows behind and getting ready to dance and enjoy life. The lyrics also convey a sense of confidence and determination that the person has to overcome the challenges and achieve their goals.
Koode Thullu is a song that will make you feel the groove and thrill of its lyrics and music. You can read the translation of the poems in English here and enjoy the catchy and inspiring expression of joy and courage by Fejo and Jeffin Jestin. You can also listen to the groovy and energetic tune by Fejo and Jeffin Jestin and their talented voices.
FEJO · JEFFIN JESTIN · KOODE THULLU SONG LYRICS ENGLISH MEANING
Chintha Dhamaniyil Dhooli Keri, Engane Edukkum Shwasam
Dust in the 'arteries' of thought, how can I breathe now?
Swarthatha Purake Lokam Odi, 4 Dikkilum Nasham
The world runs behind selfishness. Destruction in four directions, but how?
Vakkukal Theernnu Thonda Vatti, Njan Engane Oppikkum Prasam
My throat was dry, and I ran out of words to say. How can I rhyme my lines now?
Chuttu Polli Marubhoomi Nagaram, Enikku Aaru Undu Ivide Paasam
This city is a burning desert. Who is here to support me and love me?
Njan Mattunnu Maruppacha Poovidangal Athil Varnathil
Let's turn this dry land into an oasis of flowers with colourful petals, all lined up.
Nirayoththa Dalapudangal Ente Rapilu Theliyunnu Saptha Swarangal Ketta Bhavathil Viriyunnu Navarasangal
Seven tones are evident in my speech. Hearing that nine emotions (Navarasa) blossom on the face.
Shringaram Roudram Veeram Bhayanakam Karunam Bheebhatsam Adbutham Shantham Hasyam
Shringaara (romance) Raudra (anger). Veera (valor) and Bhayaanaka (fear). Karuna (compassion) Bibhatsa (disgust). Adbhutha (wonder) and Shaantha (peace). Haasya (laughter).
Ekaki Aanelum Kadaksham Munnile Dasyam
I'm an actor, a loner who is humble to beholders.
Thamassu Ente Manassilu Thelicham En Shirassilu
Darkness in my mind, but the light in my head.
Veekshana Vilassalu Drishtikal Nabhassilu
Because my perspectives are shining, I aim at the sky.
Aagraham Kalashalu Shailiyil Alassalu Rektham Ulle Panjara
My desires are in chaos. Laziness is now my style, like sugar in the blood.
Minnalinte Devan Vijayakkodi Naatukka
Set the flag of victory (zeal). Like the god of lightning (Zeus).
Nakshathram Arival Kaiyyil Pidi Chuttika
Star and sickle, hold the hammer in hand.
Sangeetham Lahari Tharunnu Netta Pattika
My music is your addiction, & my name in your achievements list.
Avide Pani Jalakam Vaathil Kettu Kattila Haan
Build a door and window there.
Koode Thullu, Ah Koode Thullu, Ah Koode Thullu
Jump along and dance. Let's jump along and dance. Let's dance and leap together.
Here, We Go! Take Your Sorrows Back Aside.
Here we go. Take your sorrows back aside.
Do You Know The Pleasure? I Will Guide You By.
Do you know the pleasure? I will guide you by.
Its Now Or Never, Machi You Decide.
It's now or never; you should decide, pal.
Come Break A Leg, Yo Fly N Ride
Break a leg; now fly and ride.
Intha Ulakathil Unne Vellum Veeran Yaaru
No one in this world can beat you, hero.
Nee Podu Satham Tharum Vetri Paaru
Your sound of courage brings success.
Nejil Dhill Eathi Nee Vanzhth Kaattu
Fill your chest with forwardness and live.
Thadai Podum Sattam Athai Maathi Kaattu
Change the rules that stop you from winning.
Adicha Ragam Padichu Thullam Kedacha Swargam Arinju Koodam
Come dance to the tunes we've learned. Remember and know the heaven you lived in.
Mathichidumbol Uthirnna Verppil Kothichathellam Vidhichu Nedam
Stay diligent, practice, and sweat. Get what's desired and what's blessed.
Ithu Aanallo Thakida Thalam, Ini Allo Thaka Dhimi Melam
This 'Thakida' rhythm, play that 'Thaka Dhimi' harmony.
Kozhuppu Koottan Narthaki Ethi, Varumbol Thudangam Olam
Dancers arrived to add flavours, and waves are ready to accompany.
Koode Thullu, Ah Koode Thullu, Ah Koode Thullu
Jump along and dance. Let's jump along and dance. Let's dance and leap together.

Koode Thullu Malayalam Music Video | Fejo | Jeffin Jestin
Nirmal Gylson's video for the song depicts the rappers' lives through various images and clips, spanning from their youth to the present. Koode Thullu is a beautiful song that celebrates the power of music and the fun of rap.
Koode Thullu Song Details
Song
Koode Thullu
Lead Vocalist
Fejo, Jeffin Jestin
Lyricist
Fejo (malayalam), Jeffin Jestin (tamil)
Instrumentalist
Fejo, Jeffin Jestin