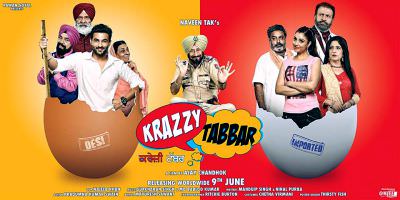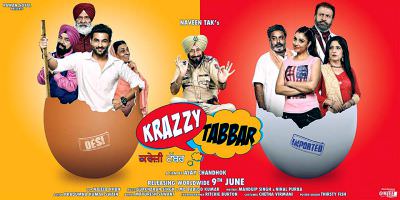 Krazzy Tabbar is Naveen Tak's upcoming Punjabi movie starring, Harish Verma & Priyanka Mehta in lead roles. The film is all set to release on  9th June 2017 and the krazzy hilarious ride is directed by Ajay Chandhok. Movie storyline has been penned down by Manduip Singh & Nihal Purba. Najeeb Khan has captured the film & Music is by Gurcharan Singh, MD Bablu Kumar while the whole presentation is from Pawan Goyal and Omjee Group is releasing worldwide.
Punjabi Film Krazzy Tabbar (2017) Wiki Info, Star Cast, Release Dates & Songs Lyrics
Movie Name: Krazzy Tabbar (2017)
Genre: Comedy, Drama, Musical | Language: Punjabi
Star Cast: Harish Verma, Yograj Singh, Priyanka Mehta, Jaswinder Bhalla, B.n. Sharma, Nirmal Rishi, Shuvendra Mahal, Baninderjit Singh
Director:  Ajay Chandhok
Writers: Manduip Singh, Nihal Purba | Editor: Mayuresh Sawant
DOP: Najeeb Khan | Music Composers: Gurcharan Singh & MD Bablu Kumar
Krazzy Tabbar Full Movie Release Dates: 9th Of June, 2017
Costumes: Chetna Varmani  | Choreographers: Ritchie Burton | Action: Pradumna Kumar Swain
Krazy Tabbar is a brand new Punjabi movie & get its Wikipedia information as star cast, release dates of krazzy tabbar film Harish Verma Priyanka & Yograj.All songs & HD trailer of Krazzy Tabbar with picture posters etc.